Lofty views of cityscapes
A night view of Shanghai by JT Singh and Rob Whitworth, shot while producing their video This is Shanghai. Photos Provided to China Daily
My China Dream | JT Singh
Urban explorer and identity expert JT Singh has made a two-minute visual record of Shanghai that he says will imprint images of the city in minds across the globe. Zhou Wenting reports in Shanghai.
Canadian JT Singh has explored hundreds of cities across the globe in a bid to understand the fiercely competitive and rapidly urbanizing world in which we live.
As an urban explorer and identity expert, he manages the Thrilling Cities Group, a multi-disciplinary team of experts that work with cities to leverage their identities to attract tourism, talent and investment. Their previous clients include such major global cities as London, Rio de Janeiro, Dubai and Kuala Lumpur.
"My job is to help cities become more than just a dot on the map," says Singh, who has only been in China since January but has already explored more than 20 Chinese cities. His first encounter with China took place last year in Shanghai while participating in a two-day conference about cities.
"I fell in love with Shanghai. I love its balance of old streets and modernization, and also many other small things like seeing grandparents playing with their grandchildren in the streets," the 28-year-old says.
In April, Thrilling Cities began a new project of shooting a pioneering time-lapse film, aimed at making Shanghai more relevant to the global conversation.
Singh brought in his British colleague Rob Whitworth, a creative time-lapse photographer, to help him.
In early June, the duo finished and delivered a two-minute video This is Shanghai, after climbing hundreds of rooftops to capture the city from different views, including its iconic skyline, and a visual roller-coaster ride from the Bund to the ancient alleyways.
They took nearly 26,000 raw clips and spent five weeks on reconnaissance, shooting, assembling and editing before releasing the video on June 5.
"On a personal level, the overriding reason we made this video was to visually show the world how China is rising, in particular - how the Chinese cities are doing so," Singh says.
"Just as New York City exemplified the strengths and ambitions of emerging America in the 20th century, Shanghai, perhaps more than any old or emerging rival, personifies the power and dreams of rising Asia in the 21st century."
Even though Shanghai is very famous and most people have heard about it, the international community does not actually know what it is like. Singh says there are no compelling images or conceptions about Shanghai that are well known.
The video is about getting a global understanding of what the city is like, and the producers climbed to dozens of high points in the city to find perfect locations.
"Stealth and curiosity were required to discover breathtaking vantage points of the city, and I became addicted. There was always an adrenaline rush upon reaching the top of a different building to see the vast urban jungle of Shanghai," he says.
The pair also tried to explore the diversities and eccentricities of the metropolis that lie behind the famous skyline.
They spent weeks pounding the pavement to better understand the urban fabric of Shanghai. They invited local people to walk with them and tell them stories about the city.
Their lens seamlessly weaves between the sparkling buildings of the financial district in Pudong New Area - where they traveled by boat and taxi, touring the impressive infrastructure - and lesser known aspects of Shanghai life, such as graffiti in the artists' community and poorer areas.
"Shanghai has this mix of a lower income and highly modernized population. The contradictions and contrasts make the city so amazing and interesting," Singh says.
"Shanghai should be proud to show off the old parts, and it has done a very good job in preserving local architecture."
Shanghai's traditional delicacy, shengjian bao, or pan-fried dumplings, was also shown off, with the camera zooming into an old house's kitchen.
They also used Sina Weibo, a Chinese micro-blogging platform, to get locals involved in telling them about "the unique characteristics of Shanghai", and received a lot of help from the community.
But what really helped This is Shanghai chalk up half a million views within six days of its launch, Singh says, is the city itself.
The video, sponsored by Shanghai Municipal Tourism Administration, has won global recognition and been posted on hundreds of websites in different languages. The major US news network CBS called it "an absolute visual wonderland".
The video has also motivated a lot of national pride.
"We can see the intelligence and forward thinking of the video, which makes me very proud of my home city," says Zhou Shuwen, a 26-year-old Shanghai native who forwarded the video on her social network.
"I believe when citizens are proud of their city, we're happier, more productive and more enthusiastic in helping promote the city and become better citizens."
Singh says the Shanghai government is already talking about another video, which will focus more on people, human drama and the unique characteristics of the Shanghainese.
Many other cities in China are also interested, and thousands of people have posted comments on Singh's Weibo and on video websites asking them to make a similar video in Guangzhou or Xi'an. Singh says the response has been exciting and encouraging. He has prolonged his stay in China, and now plans to live in China for several years to help other Chinese cities become better known globally.
"Shanghai is one of the greatest ambassadors for China to the world, and this is the age when China is on the rise rapidly and more Chinese cities are becoming key players globally," Singh says.
Contact the writer at zhouwenting@chinadaily.com.cn.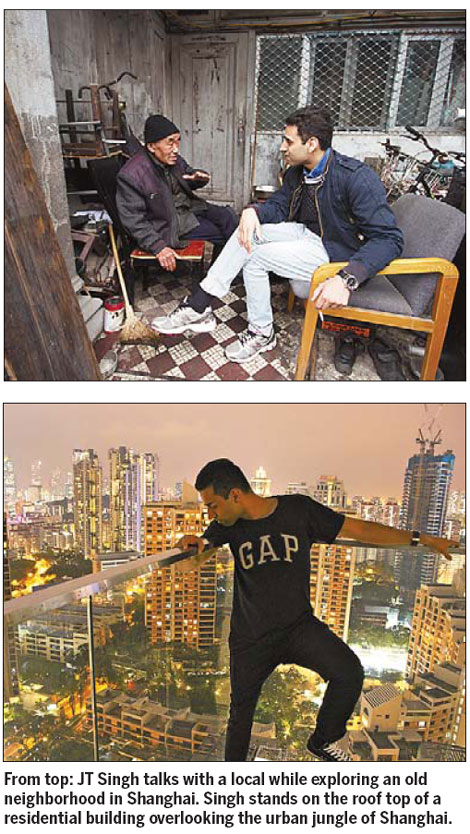 (China Daily USA 06/25/2013 page9)