Cellular medicine has new desktop solution
Chinese-British joint venture claims big breakthrough in customized treatments
Miniaturization is changing the face of medicine, and a device used to make cellular medicine that has until now needed the space of a small room will soon be sitting on hospital desktops.
Helping to drive the breakthrough is a partnership between two companies, one Chinese and the other British, to produce a bioreactor that makes the medicine.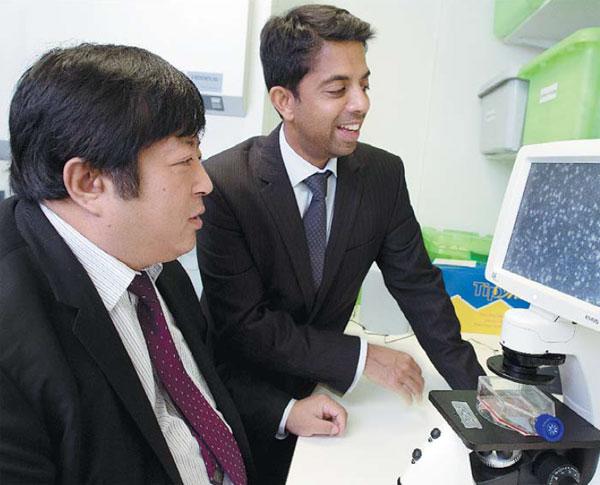 Zhang Qingliang, chairman of Union Shengxin Pump Industry of China (left), and Cell Therapy Ltd Executive Director Ajan Reginald conduct a laboratory test. Provided to China Daily
Cellular medicine can be used to treat diseases or ailments such as spinal injuries where cells need to be grown to replace old ones.
The bioreactor acts as an incubator to grow cells, which then need to undergo a complicated process to become cellular medicine, given to the patient in a liquid form.
With China's cost advantage, it is hoped the new joint venture will reduce the cost of making bioreactors.
The joint venture is called Bioreactor Corp, and Union Shengxin Pump Industry of China and Cell Therapy Ltd of Britain each has an equal stake. Its headquarters is in the United Kingdom, and it employs seven people, but the company says it will eventually create a total of about 200 jobs in both Wales and China.
Most of the jobs in China will be in manufacturing, because Bioreactor plans to build a factory to produce the medicine in Hebei province. Some components for the bioreactor will be made in Britain.
"As a traditional manufacturing company it is a big achievement for us to move into a niche manufacturing industry through this joint venture," says Zhang Qingliang, chairman of Union Shengxin.
"It is a good way for us to gain great technology and know-how, which will help us improve our manufacturing capability."
Union Shengxin was founded in Shijiazhuang in 2007. Its key products are slurry pump and related equipment, and it produces 100,000 units a year in three factories, in Shijiazhuang, Hengshui, Hebei province, and Guilin, Guangxi Zhuang autonomous region.
In recent years, its products have been sold overseas, including in Australia, India, Madagascar, Russia, South Korea, the US and Vietnam.
Union Shengxin's expertise in pump manufacturing greatly contributed to the joint venture with Cell Therapy being formed, because each bioreactor has two small pumps as key components, Zhang says.
Union Shengxin has invested 5 million pounds ($8.6 million) in Bioreactor Corp; Cell Therapy's contribution is 6.5 million pounds.
"Initially, when we entered talks with Cell Therapy, they wanted us to just make the pumps, but we wanted to contribute more to the joint venture, so we said we would manufacture the whole bioreactor," Zhang says.
Zhang says his company has decided that the bioreactors should use disposable pumps, ensuring the pumps used for making each batch of medicine are completely clean.
"We want to produce a bioreactor that patients can trust, with the comfort of mind that it is clean and safe."
Making the pump element of the bioreactor accounts for about 20 percent of the total manufacturing cost, he says.
The executive director of Cell Therapy, Ajan Reginald, says Bioreactor Corp's work could bring great changes to the cellular medicine industry as low-cost manufacturing in China means patients and research bodies can have access to this technology much cheaper.
Cellular medicines have existed for only the past five to 10 years, Reginald says.
"The thing that really held back this technology is that we have never been able to manufacture cellular medicines cheaply, or in small enough areas where hospitals can manufacture them. With this breakthrough, medicines can be manufactured in a desktop machine rather than in a room-sized bioreactor," he says.
Reginald says existing bioreactors can be 3 meters in diameter, but the ones Bioreactor Corp makes are small enough to be placed on a desk, "small enough that you can have in any clinical laboratory".
"It will increase access and enable research to be undertaken at a much lower cost and with much more ease. It allows doctors to treat their patients on an individual basis, and laboratories are able to arrange more focused treatment for their clients."
Those likely to use bioreactors are hospitals and research organizations, including laboratories in hospitals and universities.
The bioreactor is developed by Cell Therapy, which has already tested the prototype. Without the capability for full-scale manufacturing, it had looked for partners who were strong in manufacturing, initially choosing between half a dozen potential partners with expertise in making pumps.
Reginald says Union Shengxin was chosen because of its great expertise and commitment to contributing to the project. The two partners were introduced to each other by Gao Shuangming, director of UK Integrity Ltd, a consultancy.
Zhang says dedication was the key to his company's striking the deal.
"Each time we have come to the UK we have held meetings with Cell Therapy for between a week and 10 days. And each visit brought fruitful talks."
Bioreactor Corp is now building the factory in China, and that will be completed by the end of the year. It expects to produce 1,000 bioreactors next year, and double that the following year. The aim is to produce 50,000 bioreactors a year when full capacity is achieved.
Zhang says that after the bioreactors are made, Bioreactor Corp's China team will focus on sales and marketing for the Chinese products, with help from the joint venture's UK headquarters.
"Our partners from Cell Therapy will help us a lot with sales by providing us with training, because they know the product very well, and this knowledge is very important in the sales process."
Reginald says the UK staff of Bioreactor Corp will focus on sales in the European and US markets, where demand for bioreactors is also great.
Cell Therapy was founded in 2009 by the Nobel laureate Martin Evans and Reginald, who previously worked as global head of emerging technologies at Roche. It now employs about 20 people.
Two years ago Cell Therapy started a partnership with Zhongyuan Union Stem Cell Bioengineering, a Tianjin company founded in 2008, to develop an unrelated technology in stem cell medicines.
The two partners established a joint venture to research and develop a new type of innovative stem cell medicine for heart disease, which may begin clinical trials soon, and if all goes as hoped the medicines could be put on the market in about four years.
Zhongyuan Union is the majority shareholder of the joint venture, which has a research laboratory in Tianjin.
Zhang says Bioreactor Corp is an important step in his team's globalization plans.
Union Shengxin, which is listed on the Tianjin Equity Exchange, wants to receive more global exposure by listing overseas, and is preparing to do so on the Frankfurt Stock Exchange before the end of the year.
"We chose Frankfurt because of its focus on technology companies," Zhang says. "We hope to also develop R&D facilities in Frankfurt, tapping into strong technology sector talent in that market, and make our company more global."
Cecily.liu@chinadaily.com.cn
(China Daily USA 08/11/2014 page14)