Dawn Lin: politically active in grassroots
Being a successful lawyer and working single mother was not enough, especially when there were so many good causes to get behind and help drive forward
When Congressman Al Green of Texas used his five minutes of floor time on Capitol Hill in May to recognize distinguished Asian-American visitors from Texas, he called Dawn Lin the "mother of the Confucius Resolution".
Green was referring to Lin initiating HR 784, in which "the House of Representatives honors the 2,560th anniversary of the birth of Confucius and recognizes his invaluable contributions to philosophy and social and political thought" in 2009.
Lin, an immigrant from Taiwan, came to the United States in 1980 on a student visa.
"My parents were not educated people. In fact, I am the only one in my family with a college degree," said Lin, now the owner of the law firm Dawn Lin & Associates housed in the tallest building in Houston's Chinatown, where she employs eight staff members.
She started as a computer major but didn't complete the program due to a lack of funds. She then got married and had a baby in 1984. The marriage didn't last, and soon Lin found herself as a working single mother.
When her daughter grew older, Lin decided to improve her professional life. "I only had a junior college degree. I spent three years to do make-up courses while working," Then, she spent another three years getting her law degree in 1999 at the Thurgood Marshall School of Law and passed the bar right after.
In 2000, she formed her law firm and and set up her office at the newly completed Hong Kong City Mall. She was handling everything from divorce and bankruptcy to traffic tickets with a focus on immigration and corporate law.
"I chose Mother's Day to open my office," she said. "My mother was so proud that she took a stack of newspapers reporting the opening to distribute at the market. She took some back to Taiwan also," said Lin, whose story was told in the Houston Chronicle in 2002.
A few years later, Lin bought a business affiliated with Fidelity National Title Insurance: "I took it over at the beginning of 2008, and it turned out to be very bad timing because the financial crisis soon happened in the same year and drove real estate to the ground," recalled Lin.
However, Lin, always active in community organizations and the political process, had built a network that suddenly became an asset. It helped her not only weather the storm but also thrive in business.
Lin has always enjoyed singing and dancing. She joked that while in school she sang more than her classmate Tsai Chin, who later became a famous singer. Her civic involvement started with singing and dance performances at various community events in the early 1980s. Throughout the years, she also acted as master of ceremony on many occasions, such as the National Day Celebration of China.
Lin's political involvement started in the early 1990s. First she helped Esther Yao run for a congressional seat in 1991. Yao lost the election, and went on to create the Foundation for National Political Leadership in Washington two years later. Lin became president of the Houston chapter.
The chapter was active for many years: "We focused on training the next generation to be more involved in the politics. We trained them how to talk on camera, took them to visit the City Hall, meet with the mayor and the police chief.
"We also helped them to do a City Council mock meeting and learn how to pass a bill," Lin said.
"We took them to Washington to meet to meet with some Congress members."
Since helping Yao's campaign, Lin has involved herself in various elections, from school board trustees, City Council, mayor, to state and presidential races. She worked as treasurer for the Asian Republican Party in 1992 when the GOP national convention was held in Houston.
In addition, she has always supported every Chinese who ever announced a run for office.
"If you don't participate, your voice will not be heard, and you have no power. Each time when a Chinese comes out to run, it's an opportunity to mobilize people to get involved," Lin said.
She remarried in 2003, and became more politically involved when she helped Al Green win a congressional seat in 2004. They became friends, and Lin was asked to be his community liaison when Green took office in 2005.
While running her law office, Lin worked as Green's liaison on and off for a couple of years, helping the Asian community to be more involved and to be heard. However, "I realize this part-time position has limited me - I can't endorse other candidates in elections any more. I find this restriction did not suit me at all," Lin said.
She eventually quit the position so as not to be limited in political involvement: "I found out I can do more when not a staff (member) in the office of Congressman Green."
However, she remained close to Green and had been involved in his two trips to China. "It's important for him to understand China to do a good job," she said.
In 2009, as the Confucius Institute found a home at Texas Southern University in Houston, the local community started a project to put a Confucius statue by local sculptor Willy Wang in Herman Park.
"I thought this was a great opportunity to promote our traditional culture, and I asked Congressman Green to create a resolution in the House to recognize this great Chinese philosopher," Lin said.
The initiative got a lot of support in the House and passed as HR 784 in October 2009. It was later also passed in the Senate. "It felt wonderful when the resolution was passed," said Lin.
Early this year, Lin became the Houston chapter president of the Asian Real Estate Association of America.
Ever a creative mobilizer, in May, which was Asian-American Heritage Month, Lin, with the help of other community leaders, took two busloads of members to Austin to meet Texas state legislators.
"We made a big impression. I want them to know that we exist and our voice counts," Lin said.
mayzhou@chinadailyusa.com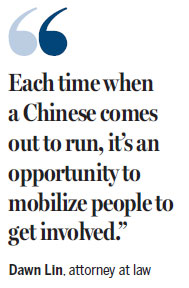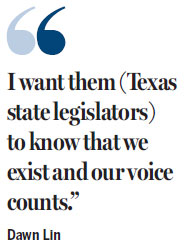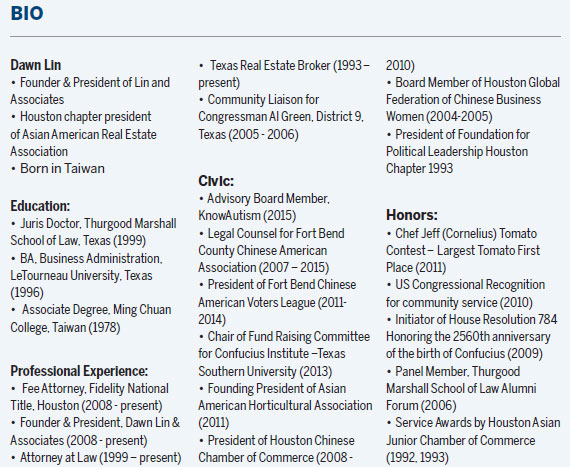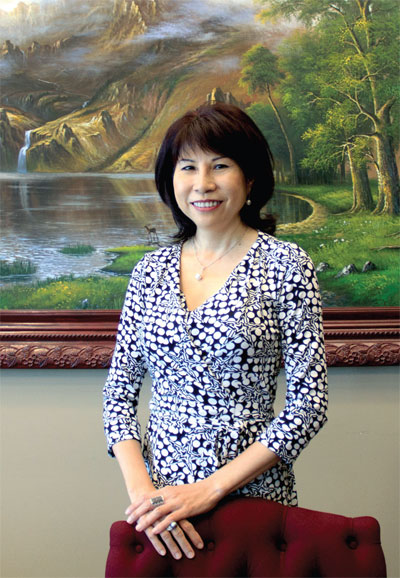 Dawn Lin, politically active and professionally successful, believes political participation is important. "If you don't participate, your voice will not be heard," she said. May Zhou / China Daily
(China Daily 08/21/2015 page11)