Mobike teams up to assist with cleft palate operations
Bike-sharing startup Beijing Mobike Technology Co Ltd recently announced a strategic partnership with the Smile Angel Foundation, and is set to donate 3.65 million yuan ($529,615) to the charity organization.
With its support 365 children from poverty-stricken families who suffer from cleft palates will undergo free surgery.
Li Yapeng, founder of the Smile Angel Foundation, said the strategic partnership would aim to link the bike-sharing operation with charity and encourage members of the general public to become involved in welfare work.
"Our foundation and Mobike will work together on children's welfare," the actor-turned-entrepreneur said.
Mobike and Smile Angel launched a riding activity on April 19 called Let's Mobike, Let's Love, in which users rode shared bikes along a route shaped like a smile and then uploaded the result onto Weibo, China's Twitter-like service. Mobike said it would donate its earnings from the day to the foundation.
Mobike's founder Hu Weiwei said her company wanted more people to contribute to the charity for children born with cleft palates and lips.
Cleft lips and palates are one of the most common congenital birth defects in the mainland. About every 25 minutes, a new baby with a cleft palate is be born in China, leading to 23,000 new cases every year, according to government figures.
Hong Kong-based medical charity Beam International Foundation has estimated that each surgery for cleft lips usually costs between 5,000 and 7,000 yuan in China, and cleft palates, which are more severe, can cost up to 10,000 yuan.
It said many babies whose family cannot afford treatment miss the ideal time to receive the operation.
Li Yapeng founded the Smile Angel Foundation in 2006, after his daughter was born with cleft lip that year. The foundation aims to call on society to help children born with cleft lips and palates, whose family suffers from poverty.
To date, Li has led medical volunteer teams to Sichuan province, the Xinjiang Uygur autonomous region, the Tibet autonomous region, the Inner Mongolia autonomous region and other local places, offering surgery for afflicted kids. The foundation said so far nearly 12,000 children have received free operations.
Mobike, famed for its GPS-enabled shared bikes, has deployed more than three million bikes in 50 cities internationally - including Beijing, Shanghai, Guangzhou, Shenzhen and Singapore. It has provided an accumulated 600 million rides since its debut in 2016, according to company figures.
In March the company held an Earth Hour activity, as part of the international movement initiated by the World Wide Fund for Nature, calling on citizens in China to participate in environmental protection.
The company said its shared bikes had reinvigorated the nation's love for bicycles as more Chinese people chose pedal power instead of cars to take short urban journeys, making for a greener environment.
Mobike and the Smile Angel Foundation said the two sides would continue to launch a series of public welfare activities together, asking more people to help children born with cleft lips and palates.
ouyangshijia@chinadaily.com.cn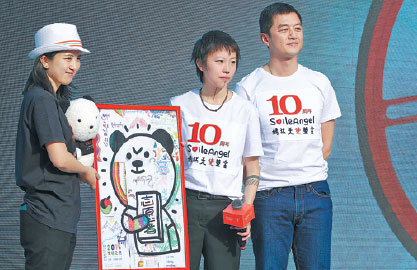 Li Yapeng (right), founder of The Smile Angel Foundation and Dou Jingtong (middle), brand ambassador of the foundation, send a picture to Hu Weiwei, founder of Mobike Technology Co Ltd in Beijing, celebrating their strategic cooperation. Provided To China Daily
(China Daily USA 05/04/2017 page15)