Nation sees highest uptake of fintech
Money transfer, payment services among major drivers of fast growth
China ranks top among 20 world markets in terms of fintech adoption, with 69 percent of surveyed consumer respondents saying they are actively using fintech services, 33 percentage points higher than the global average.
According to the report by consultancy services provider EY, based on more than 22,000 online interviews in 2017, global fintech adoption has been growing fast since 2015 when EY did its first study on the issue.
Money transfer and payment services are major drivers of the fast growth, said the report.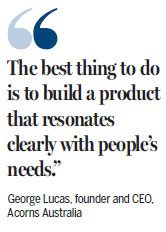 Around 64 percent of fintech users said they prefer using digital channels to manage "all aspects of their life". And 13 percent of polled consumers said they are regular users of five or even more fintech services, which include money transfer and fintech, wealth planning, deposit and investment, borrowing and insurance.
The report said it is expected that the fast growth of fintech adoption will continue to rise and reach 52 percent globally in the next two years.
"Even though it's easier said than done, the best thing to do is to build a product that resonates clearly with people's needs," said George Lucas, founder and CEO of Acorns Australia, a fintech services provider, when asked about customer traction.
"Once you have that, your early adopters will recommend you to friends ... and you can get viral growth through word of mouth", said Lucas.
Although fintech adoption in the insurance sector is relatively lower than that in payment and money transfers, its growth is obvious - from 8 percent in 2015 to 24 percent in 2017, and is expected to grow to more than 50 percent in the next few years.
Analysts said technologies will help to handle risk exposure amid rising fintech adoption around the world, and regulation will also take advantage of technologies in the sector.
Jack Chan, managing partner of EY Financial Services' China operation, called for greater activity from regulators and policymakers for some market support fintech services. "For example, as a new service or product using financial technologies is to be launched, regulators and policymakers can run it in a 'regulatory' box, which tests the product or service within a limited scale and observe what risks could emerge and what loopholes must be taken care of," said Chan.
In China, regulators have strengthened regulation of peer-to-peer lending, online payment, and virtual currency trading in the past two years.
According to Chan, the moves support the fintech sector as they help the market keep outstanding players with a strong focus on effectiveness, transparency, compliance and efficiency, and rule out unqualified players.
Fintech adoption rates in other markets with active users are 52 percent in India, 42 percent in the United Kingdom, 40 percent in Brazil, 37 percent in Australia and Spain, 36 percent in Mexico, and 35 percent in Germany and South Africa. The fintech adoption rate in the United States is 33 percent, which is the same level as the global average.
wuyiyao@chinadaily.com.cn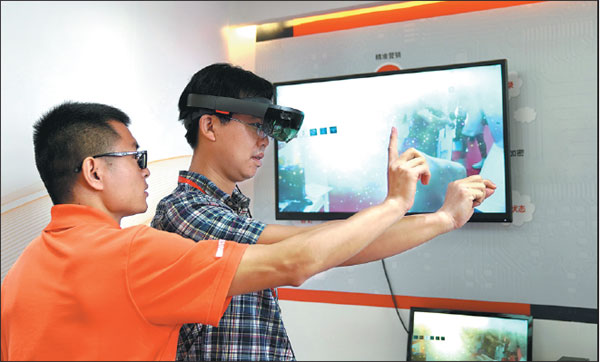 Participants try mixed reality technology applications at the 25th China International Financial Exhibition held from July 27 to 30 in Beijing.Li Xin / Xinhua
(China Daily USA 08/23/2017 page16)