BYD delivers first electric shuttle buses to US airport
A Chinese company helped make electric-vehicle history on Thursday in the American heartland.
BYD Heavy Industries, US-based subsidiary of BYD Co Ltd in Shenzhen, in South China's Guangdong province, announced delivery of four 30-foot battery-powered coach vehicles to the Kansas City International Airport - billed as the first electric buses for airport passenger service in the US.
The buses will shuttle passengers to terminals at the airport, which is situated 15 miles northwest of downtown Kansas City, in Platte County, Missouri.
The zero-emission buses were built at BYD Heavy Industries' coach and bus manufacturing facility in Lancaster, California and customized with luggage racks.
The Kansas City Council approved the bus order in November 2016.
"BYD is proud to work with Kansas City International Airport to provide these four buses with zero tailpipe emissions, giving airport passengers a cleaner and healthier ride," said BYD Heavy Industries Senior Vice President Macy Neshati.
"Kansas City International Airport will enjoy cost savings by operating the BYD battery-electric buses because they reduce fuel and maintenance costs by tens of thousands of dollars over the lifetime of the bus," he said.
Pat Klein, Kansas City director of aviation, said the city "has long been at the forefront in implementing the latest in environmentally friendly programs and vehicles".
"In 1997, we deployed a fleet of the first compressed natural gas mass transit vehicles in regular use in Kansas City. We are one-upping that milestone by purchasing these electric buses to further lessen fleet emissions."
In response to demand for its high-tech buses, BYD recently completed an expansion of its coach and bus manufacturing facility in California. The move will allow the company to eventually build up to 1,500 battery-electric buses a year.
BYD makes seven battery-electric coach and bus models and has deployed more than 140 battery-electric buses to customers across North America. The company also makes automobiles, medium- and heavy-duty trucks, SkyRail monorail and forklifts and is involved in energy storage and solar power generation.
Founded in 1995 by Wang Chuanfu, who is chairman and CEO, BYD has more than 27,000 buses in service around the world. The company has more than 220,000 employees and $15 billion in annual revenue.
williamhennelly@chinadailyusa.com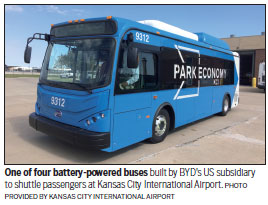 (China Daily USA 10/27/2017 page2)