Chinese music finds new foothold in United States
Share - WeChat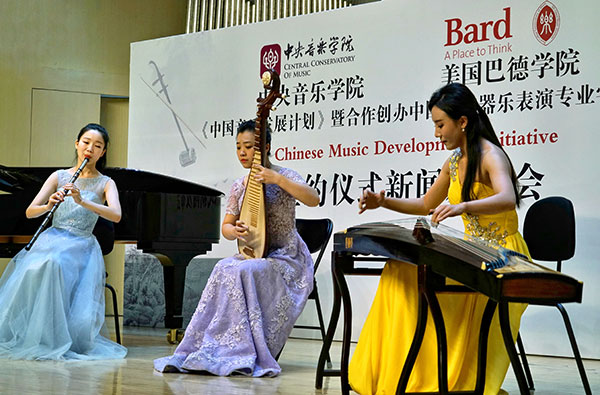 New York's Bard College Conservatory of Music will teach an undergraduate program in Chinese musical instrument performance starting next fall.
Bard will work with Beijing's Central Conservatory of Music to create the program, said to be the first of its kind at a Western college.
Students will be able to apply in January for a first year that will focus on the erhu, pipa and guzheng, all stringed instruments.
Yu Feng, president of the Beijing school, signed a development initiative for the program and other joint efforts with Robert Martin, director of the New York school, on Sunday in Beijing.
Martin, who is a cellist, said he has been coming to China since the 1970s and had the idea of introducing a Chinese instrument performance degree program at Bard two years ago.
"The goal is to create a comprehensive and effective platform for Chinese music in the United States," he said. "I believe our partnership is what diplomats call a win-win situation."
Yu hailed the project as a "trailblazing step" for Chinese music worldwide that would create a new channel for cultural exchange between the two countries.
"Traditional Chinese culture is the basis of Chinese music and Chinese instruments," Yu said. "We will also introduce lessons such as calligraphy, traditional Chinese opera and Chinese poetry to our students."
In a video played for the announcement ceremony, Leon Botstein, president of Bard, said: "There has been much development regarding the absorption of the teaching of Western instruments and Western music. This needs to be balanced by the introduction of the great tradition of Chinese music and Chinese instruments to Western musicians, inspiring young musicians of the next generation."
Bard, a private liberal arts college founded in 1860, launched its music conservatory in 2005. The new program will build on its existing five-year music and liberal arts and science program to combine the professional study of traditional Chinese instruments with a Western-style liberal arts education. According to Yu, three professors from the Beijing school will become primary faculty members.
Outside the program, the initiative will also launch an annual Chinese music festival at Bard and an annual summer school for high school students. Both will focus on music from contemporary China. Seminars and scholarly conferences on Chinese music, art and social development will also be held in the US and China on alternate years.
Chinese conductor Cai Jindong will chair the committee overseeing the initiative. Cai, who was born in Beijing and studied violin and piano, went to the US in 1985 and joined the Stanford University faculty as professor in 2004. He has been guest conductor of major symphony orchestras in both China and the US.
"I have been working and living in the US for more than 30 years, and to me this program is like a dream come true," he said.
He noted that the development of Western music in China has a very long history, starting with Matteo Ricci (1552-1610), the Italian believed to have been the first Jesuit priest to enter Beijing. Ricci gave a clavichord to Emperor Wanli of the Ming Dynasty (1368-1644) in 1601.
"Chinese music never really developed in the West," Cai said. "We believe this program will make changes in the long run."
chennan@chinadaily.com.cn