Tibetans invite US lawmakers to region
Share - WeChat US lawmakers are welcome to visit Tibet to better understand the autonomous region of China, a senior Chinese legislator from Tibet said in Washington on Tuesday.
"Seeing is believing. We've extended our invitation to ask more senators and representatives to visit Tibet, and they said they are very interested in going to the region to see for themselves the changes and achievements in Tibet," said Danzeng Langjie, vice-chairman of the Standing Committee of the People's Congress of the Tibet autonomous region.
Danzeng Langjie made the remark at a news conference on Tuesday after a delegation that he led met with US senators Steve Daines, John Barraso and representatives Darin LaHood and Rick Larsen. Daines, Barraso and LaHood are Republicans and Larsen is a Democrat.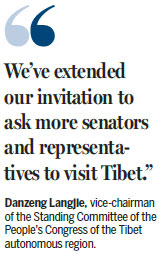 Danzeng Langjie said that President Xi Jinping and US President Donald Trump had reached a wide-ranging consensus on Sino-US relations and issues of mutual concern during Trump's state visit to China last month. The Tibetan delegation's US trip served to implement their consensus and to ramp up exchanges between the nations' legislative organs.
The US congressmen said they were glad to learn that Tibet had done a good job in environmental protection and traditional cultural preservation. They expressed a desire to visit Tibet and further enhance exchanges and cooperation, the Tibet delegation said.
Visits to Tibet often change how visitors perceive the autonomous region, which stretches more than 1.2 million square kilometers, Danzeng Langjie said.
Daines, from Montana, visited Tibet in April and he expects to visit again, Danzeng Langjie said.
Daines led a congressional delegation to China less than three months after Trump took office. Daines met with Premier Li Keqiang in Beijing and some senior officials in Lhasa.
Danzeng Langjie said Daines "has seen the changes that took place in Tibet and the people's aspirations. We have more grassroots areas in six other cities and prefectures to visit".
The more places they visit, the more comprehensive their understanding will be, he said.
The Tibetan delegation of three local legislators and one national legislator visited Canada, Argentina and the United States. Washington was the last leg of the US trip.
During the journey, the delegation had talks with parliament members and government officials as well as academics on topics covering the 19th National Congress of the Communist Party of China, the Belt and Road Initiative and Tibet's economic development, poverty alleviation, religious and cultural protection, ethnic unity and the central government's preferential policies for Tibet's development.
huanxinzhao@chinadailyusa.com