Jerusalem decision sparks protests
By Chen Weihua in Washington and Wang Qingyun in Beijing | China Daily USA | Updated: 2017-12-08 00:17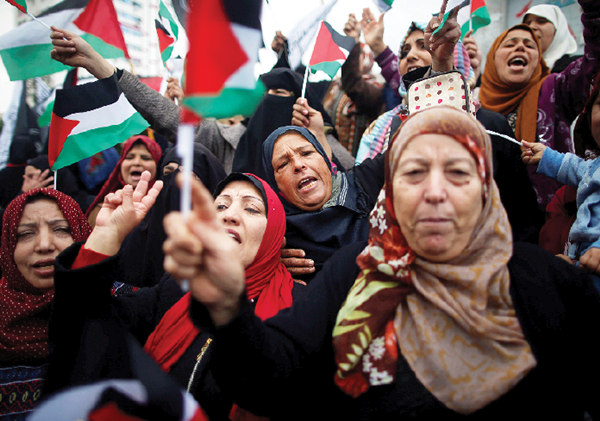 US President Donald Trump's decision on Wednesday to formally recognize Jerusalem as the capital of Israel and to move the US embassy there sparked protests and condemnation around the world.
Trump's decision has reversed decades of US government foreign policy regarding the issue.
"I have determined that it is time to officially recognize Jerusalem as the capital of Israel," Trump said, with Vice-President Mike Pence on his side.
Trump noted that previous US presidents have made it a campaign promise but failed to deliver.
"Today, I am delivering," he said, despite warnings in the past days from around the world, including key US allies in Europe.
Trump expressed that the US remains deeply committed to helping facilitate a peace agreement that is acceptable to both sides.
Shortly after his speech, protests erupted in several places, including outside the US consulate in Istanbul, Turkey, according to Reuters.
In Gaza City, hundreds of demonstrators braved a downpour on Wednesday and burned American flags and posters bearing Trump's photo, according to The New York Times.
After Trump's speech, United Nations Secretary-General Antnio Guterres said that Jerusalem is an issue that must be resolved through direct negotiations between the parties.
"In this moment of great anxiety, I want to make it clear: there is no alternative to the two-state solution. There is no Plan B," he told the press at UN Headquarters in New York.
The UN chief noted that it is only by realizing the vision of two states "living side by side in peace, security and mutual recognition, with Jerusalem as the capital of Israel and Palestine, and all final status issues resolved permanently through negotiations," that the legitimate aspirations of both peoples will be achieved.
China also expressed concern on Wednesday with Foreign Ministry spokesman Geng Shuang, saying the issue of Jerusalem's status is complicated and sensitive.
"All parties should keep in mind the peace and tranquility of the region, act with caution and avoid undermining the long-term basis for solving the Palestinian issue and thus triggering new confrontation in the region," he said.
Geng said China has always firmly supported and pushed forward the Middle East peace process and supported the Palestinian people in their just cause of restoring their lawful national rights.
China supports the establishment of an independent State of Palestine with full sovereignty, taking the 1967 borders as its basis and East Jerusalem as its capital, he added.
France rejected the "unilateral" decision while appealing for calm in the region. Britain said the move would not help peace efforts, and Jerusalem should ultimately be shared by Israel and a future Palestinian state.
Germany said Jerusalem's status could be resolved on the basis of a two-state solution, according to the Reuters.
Israel, by contrast, applauded Trump's move. Prime Minister Benjamin Netanyahu said in a pre-recorded video message that it was "an important step towards peace" and it was "our goal from Israel's first day".
Palestinian President Mahmoud Abbas, in a pre-recorded speech, said Jerusalem was the "eternal capital of the State of Palestine" and that Trump's move was "tantamount to the United States abdicating its role as a peace mediator".
The Palestinian group Hamas said Trump had committed a "flagrant aggression against the Palestinian people". It urged Arabs and Muslims to "undermine US interests in the region" and to "shun Israel".
Lebanese President Michel Aoun said the Jerusalem decision was dangerous and threatened the credibility of the US as a broker of Middle East peace.
'Death sentence'
Qatar's foreign minister, Sheikh Mohammed bin Abdulrahman al-Thani, said Trump's undertaking was a "death sentence for all who seek peace" and called it "a dangerous escalation".
Turkish, Egyptian, Jordanian and Iranian leaders also condemned Trump's announcement.
Natan Sachs, director of the Center for Middle East Policy at the Brookings Institute, described Trump's decision as an "unforced error".
"The timing is terrible in terms of trying to reach the ultimate deal which he charged his son-in-law (Jared Kushner) of achieving," Sachs said on Wednesday in a Brookings podcast.
"But it's also bad just because of the volatility that is always there really in Jerusalem itself," said Sachs, who grew up in Jerusalem.
The status of Jerusalem is home to sites holy to the Christian, Jewish and Muslim faiths; its eastern sector was captured by Israel in a 1967 war and is claimed by Palestinians for the capital of an independent state they seek.
Contact the writer at chenweihua@chinadailyusa.com
Reuters contributed to this story.