'Body logo' photographer now an online celebrity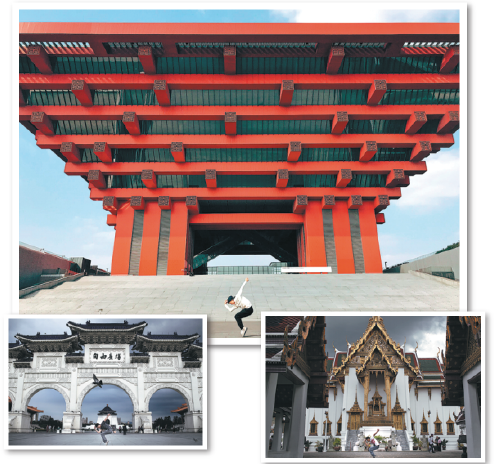 Striking a pose and getting a picture taken at a scenic spot is what many travelers typically do. So, how about making a unique gesture to form your own "body logo" in the photos wherever you go?
Liang Xiaotie, 30, a photographer in Southwest China's Chongqing, has done more than 100 such logo pictures since 2009, and this has turned him into an online celebrity in China.
His signature pose is like this: His right fist supports his forehead with his left arm stretching straight up, and he stands on his toes with his knees bent to 90 degrees.
"I was helping my friend shoot pictures outside the Jiangbeizui grand theater, which is Chongqing's iconic structure," says Liang, speaking about the first time he struck the pose.
"My friend urged me to strike any pose I liked and suddenly I thought about a pose Michael Jackson did on MTV."
The young man thought the photo was interesting and posted it on social media. Soon, many people liked it and reposted it.
"So this pose is my signature when I travel around and take photos," he says.
In the past eight years, he has taken pictures in many parts of the country such as Shanghai, Yunnan province, the Tibet autonomous region and Xiamen in Fujian province, as well as abroad-in Japan and Thailand.
In those pictures, usually there is no one else but him and the background, such as beautiful natural scenes or extraordinary architecture.
"It is not an easy job (to take the pictures)," says Liang. "We (me and my wife) have to wait for a long time, even days, to capture the best light and moment."
Usually he will select the spots and compose the pictures in mind. His wife, Zhang Shu, takes the pictures.
"Taking the logo photos has become a routine," he says. "It is my way to record my travels."
Liang studied graphic design in university but he became a freelance photographer after graduation.
Now he mainly takes travel photos for couples as many young Chinese want wedding photos done overseas.
"My ultimate goal is to shoot my logo picture in Antarctica," he says.