San Francisco mayor Ed Lee dies from heart attack
Share - WeChat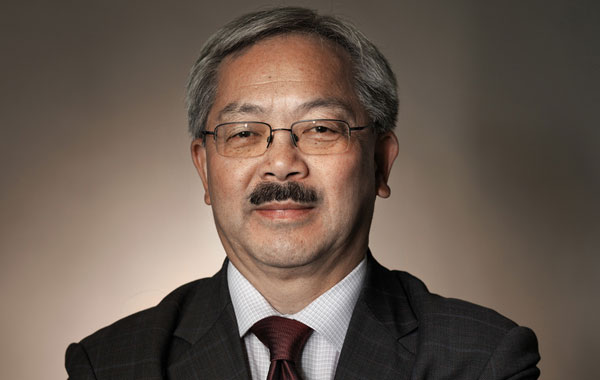 Ed Lee, San Francisco's first Asian-American mayor, died early Tuesday morning after suffering a heart attack, his office said. He was 65.
Lee died at 1:11 am at Zuckerberg General Hospital after suffering cardiac arrest while grocery shopping at a local Safeway just hours before, his office said.
Brent Andrew, the spokesman for the hospital and its trauma center, said Lee arrived at the hospital in an ambulance at about 10 pm on Monday.
He was surrounded by his family, including his wife Anita and his two daughters, Brianna and Tania, as well as many political leaders when he passed away, Lee's office said.
The mayor's office released a brief statement early Tuesday morning, stating in part: "Our thoughts and prayers are with his wife Anita, his two daughters, Brianna and Tania, and his family."
Under the city's rules, London Breed, the president of the board of supervisors, became the acting mayor.
Flags at City Hall were flying at half staff.
The former civil rights attorney had been mayor since 2011, while serving as city administrator, the board of supervisors appointed him to fill the rest of the term of Mayor Gavin Newsom, who left to become California's lieutenant governor.
Lee was elected to his own term in 2011 and re-elected in 2015.
Serving as the city and county's first Asian-American mayor in a county where more than 35 percent of residents are of Asian descent is part of "the height of his legacy," former San Francisco mayor Willie Brown told CNN affiliate KPIX. Lee served under Brown in various civil posts when Brown was mayor from 1996 to early 2004.
"Unlike all the rest of us (who) got elected – we got elected by our own skills to convince people and to sell people on us as an idea – Ed Lee earned that title by demonstration of being an efficient person who could manage a huge enterprise like San Francisco," Brown told KPIX.
"I am utterly and totally grief stricken," said Supervisor Malia Cohen, who cried as she spoke Tuesday morning. "My heart breaks for (Lee's wife) Anita and the mayor's daughters. The entire city family is grieving right now. It's a very stressful and difficult time. We'll get through it together. I'm in shock, it's still hard for me to believe. I was just with him on Saturday."