US presents its evidence of Iran weaponry, Iran denies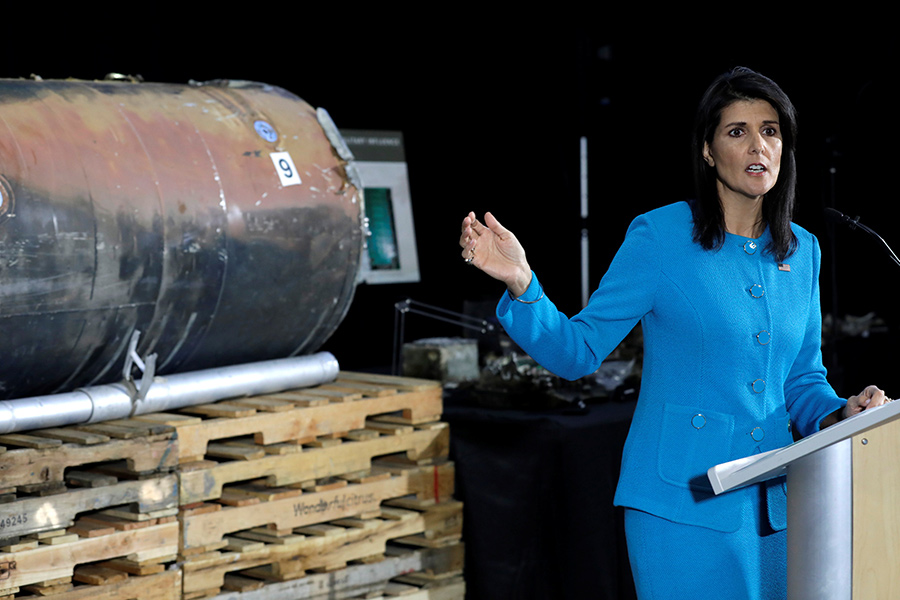 WASHINGTON - The United States on Thursday presented for the first time pieces of what it said were Iranian weapons supplied to the Iran-aligned Houthi militia in Yemen, describing it as conclusive evidence that Tehran was violating UN resolutions.
The arms included charred remnants of what the Pentagon said was an Iranian-made short-range ballistic missile fired from Yemen on Nov 4 at King Khaled International Airport outside Saudi Arabia's capital Riyadh, as well as a drone and an anti-tank weapon recovered in Yemen by the Saudis.
Iran has denied supplying the Houthis with such weaponry and on Thursday described the arms displayed as "fabricated."
The United States acknowledged it could not say precisely when the weapons were transferred to the Houthis, and, in some cases, could not say when they were used. There was no immediate way to independently verify where the weapons were made or employed.
All of the recovered weapons were provided to the United States by Saudi Arabia and the United Arab Emirates, the Pentagon said. Saudi-led forces, which back the Yemeni government, have been fighting the Houthis in Yemen's more than two-year-long civil war.
The unprecedented presentation - which Haley said involved intelligence that had to be declassified - is part of President Donald Trump's new Iran policy, which promises a harder line toward Tehran. That would appear to include a new diplomatic initiative.
"You will see us build a coalition to really push back against Iran and what they're doing," Haley said, standing in front of what she said were the remnants of the Nov 4 missile.
Israel and Saudi Arabia, who view Tehran as their arch foes, both seized upon the US presentation in calls on Thursday for international action.
Under a UN resolution that enshrines the Iran nuclear deal with world powers, Tehran is prohibited from supplying, selling or transferring weapons outside the country unless approved by the UN Security Council. A separate UN resolution on Yemen bans the supply of weapons to Houthi leader Abdul-Malik al-Houthi and others.
Iran rejected the US accusations as unfounded and Iran's Foreign Minister Javad Zarif, on Twitter, drew a parallel to assertions to the United Nations in 2003 by then-US Secretary of State Colin Powell in 2003 about US intelligence on weapons of mass destruction in Iraq.
No weapons of mass destruction were found in Iraq after the US-led invasion.
Reuters