US ambassador makes school visit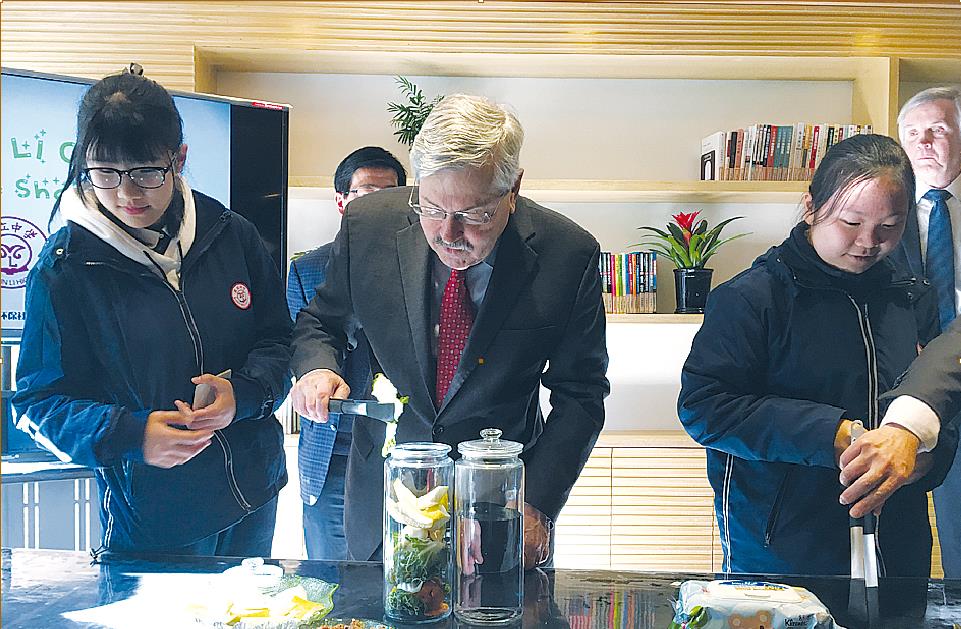 United States Ambassador to China Terry Branstad and Consul General at the US Consulate General in Shanghai Sean Stein have expressed hope that students from both nations could be involved in more exchanges on environmental issues in the future.
The duo said this during a visit to an organic garden at the rooftop and to a laboratory of the Minli High School in Shanghai last week where students planted vegetables, flowers and herbs, and created fertilizer using kitchen waste, brown sugar and water.
"I feel strongly that when students from throughout the world work together and share ideas and experiences, they grow as individuals and become better citizens of the world," Branstad said.
Minli High School is one of the 60 schools in the city that have worked with Shanghai Roots & Shoots, a nonprofit organization focusing on environmental education.
The organization helps schools carry out interactive programs, including establishing organic gardens and teaching students to create products such as lip balms and herbal creams using produce from their organic farms.
During the visit, students collected vegetable leaves and fruit peels from the school kitchen and taught Branstad and Stein the process of making fertilizer from brown sugar, kitchen waste and water.
Every month, two representatives from the Green Club, a student association at Minli High School that focuses on environment issues, are selected to participate in a meeting organized by Shanghai Roots & Shoots. The meeting informs students about new projects and invite them to share about their initiatives in school.
"Throughout this learning process, my schoolmates and teachers will have a stronger awareness of reducing waste and reusing and recycling resources in everyday life," said Zhu Yuedi, one of the club's members.
Branstad said that the event reminded him of a time in 1985 when he, who was then the governor of the State of Iowa, received a delegation from China's Hebei province led by a young man named Xi Jinping, who is now the leader of China.
"Young people have great potential. When I look around at the students who are working on these projects, I feel excited about the future," he said.
zhouwenting@chinadaily.com.cn