German envoy 'wrong'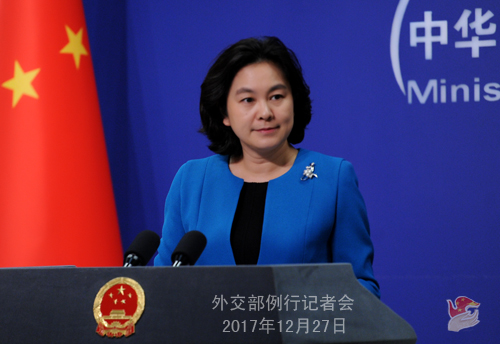 China criticized on Wednesday the German ambassador's recent remarks about cyber issues between the two countries as "not constructive" and "quite wrong", urging efforts from the German side to promote bilateral cooperation.
Foreign Ministry spokeswoman Hua Chunying responded to comments from German Ambassador to China Michael Clauss, who said in a Dec 22 interview with the South China Morning Post that Germany's repeated requests to have a meaningful dialogue on cyber-related questions with China "have regrettably not yet received a positive response".
"Frankly speaking, the ambassador and his remarks are not constructive, and even quite wrong. Some of his views do not conform to the truth and are even misleading," Hua said in a news conference.
"An ambassador is supposed to respect the country he is accredited to, and behave as an envoy and a bridge that facilitates understanding, friendship and cooperation between the two countries," she said.
The spokeswoman also said that China has invited the German side many times to send delegations to China for consultations, but it didn't do so for a long time.
"In return, it accused China of lacking the sincerity for dialogue, which is utterly unreasonable," she said.
According to Hua, the two countries already had in-depth communications over this issue during the first high-level security dialogue between China and Germany in June.
"I think he should know well about this as the ambassador. And we hope the German embassy in China and related people do not make unprofessional and irresponsible remarks, but do things that help to develop China-German relations and promote mutually beneficial cooperation," she added.
Cui Hongjian, director of European Studies at the China Institute of International Studies, said Germany misinterpreted the reason for the failure of conducting a dialogue over cyber issues.
"Both sides should work toward the same goal, instead of making unilateral accusations," he said.
Contact the writers at mojingxi@chinadaily.com.cn