Search on for 2018 Asian Games torchbearers
Share - WeChat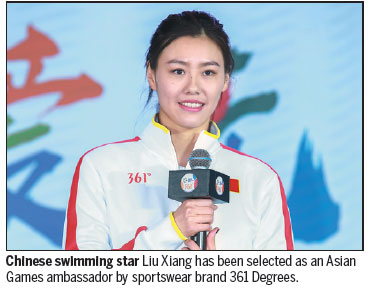 Sportswear brand 361 Degrees is offering the Chinese public the chance to carry the torch for the 2018 Asian Games in Jakarta.
The company has launched a nationwide search that will see torchbearers selected from each of the 22 provinces, five autonomous regions and four municipalities on the Chinese mainland.
Some of the spots have been specially allocated for kids as 361 seeks to give young people the chance to experience the spirit of the Games, which take place from Aug 18-Sept 2 in the Indonesian capital.
"Bearing the flame of the Asian Games appears out of reach for most people, but we are giving our consumers the chance to make their dream come true," said 361 Degrees CEO Ding Wuhao at the launch of the initiative in Beijing on Tuesday.
361 also kicked off a series of marketing campaigns for its sports products and Games souvenirs, while three Asian Games ambassadors were announced - American basketball star Jimmy Fredette of the CBA's Shanghai Sharks, rising Chinese swimmer Liu Xiang and singer Wei Chen. The trio will promote the spirit of the Games as well as helping spread the 361 Degrees brand around the world.
"The Asian Games is the premier sports tournament for young athletes around the continent. It matches our 2018 strategy as we will be making more youth-oriented products and making our business more international."
Founded in 2003, 361 Degrees has a proud history of working with major sporting events.
The Fujian-based company was the official uniform supplier for the Rio 2016 Olympics, providing over 106,500 uniforms to technical staff, volunteers, test-event personnel and torch-relay participants. It also sponsored the Guangzhou 2010 and Incheon 2014 Asian Games, as well as the Nanjing 2014 Youth Olympics.
chenxiangfeng@chinadaily.com.cn