Chinatown gets even brighter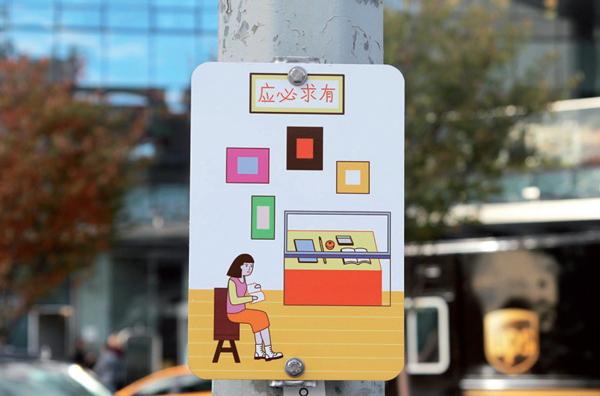 Bubble tea, hot pots, siu mei (roasted meat), massage shops, Karaoke all of the elements that make up scenes in Chinatown are featured in illustrator Hu Dingding's art show Welcome to Chinatown - Chinatown Walk.
The collection of illustrations depicting Manhattan Chinatown's content-rich everyday life is now adding vivid highlights to the hundred-year-old landmark.
"I like it, the color, the layout, it's eye catching," said Alvaro Araya, a tourist from Chile, who stopped at a vinyl illustration by Hu on the Chinatown information kiosk at Canal Street and Walker Street on Wednesday.
In all, 47 bold and colorful illustrations are placed throughout Chinatown, including aluminum signs installed on street light poles and mesh banner wraps on chain-link fencing under the Brooklyn Bridge, all highlighting the seven gateways into Chinatown.
The illustrations, celebrating people living in and visiting the neighborhood, graphically represent each gateway point's uniqueness, while guiding viewers through the culturally rich streets of the neighborhood.
"Many people don't know where the gateways of Chinatown are, so I hope my artworks can guide them and attract more tourists," said Hu, who was born and raised in Sichuan province in southwest China and is now based in New York City.
Hu's artworks are presented by the New York City Department of Transportation's Art (DOT Art) program and urban design team, partnered with the Museum of Chinese in America (MOCA) in New York City.
"The best part about Welcome to Chinatown - Chinatown Walk is the sense of discovery and how it encourages people to walk from site to site," the DOT Art team wrote in an email to China Daily.
"Hu's artwork, placed around seven central locations in Chinatown, invites passersby to uncover new elements of her work during each viewing," the email continued.
Launched in October 2008, the DOT Art Program aims to invigorate the city's streetscapes with engaging temporary art installations.
The program partners with community-based organizations and artists to present murals, sculptures, projections and performances on plazas, fences, barriers, bridges and sidewalks for up to 11 months.
"Artists help transform the streets from ordinary to extraordinary with temporary interventions," according to the program's website.
This year, DOT Art in partnership with the Summer Streets Advisory Committee reviewed the work of more than 100 illustrators and designers, collected through research and submissions, to select a candidate for the campaign.
Hu was ranked as a finalist in the 2017 Summer Streets illustration campaign competition.
"Hu's work was chosen because of her use of bold colors and playful narrative."
The collection will remain installed until the end of next year.
xiaohong@chinadailyusa.com