Eat Beat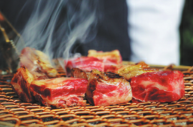 Rare kind of beef treat from NZ
The Korean restaurant Pingandao only serves one kind of beef-Kuroge Wagyu from North Island, New Zealand. Each server at Pingandao is also a good cook, as they know the exact time to cook each side of the beef. Pingandao has two special menus for New Year's Eve. The set menu for two is 398 yuan ($61) and for four is 599 yuan. The restaurant also prepares traditional Korean food.
Building 30 Wangjing Huajiadi, Chaoyang District, Beijing. 010-6477-6766.
Comments posted above represent readers' views only.