Thrill-seekers embrace new wave of hair-raising sports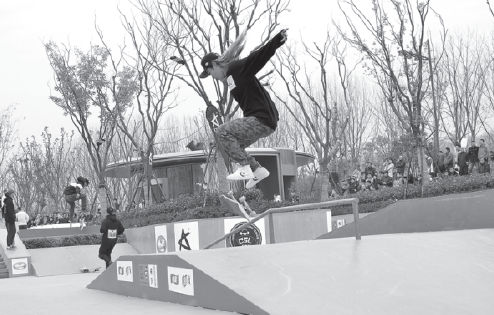 No longer the preserve of risk-taking adrenaline junkies, extreme sports are shaking off their niche status to become increasingly popular lifestyle choices within China's fitness mainstream.
Whether it's scaling walls, skateboarding on halfpipes or dirt-jumping on bikes, China's fashion-conscious young urbanites are embracing the thrills and spills of extreme sports, many of which now come with an Olympic seal of approval as well as street kudos.
At Wanlong Ski Resort in Zhangjiakou, Hebei province, hip-hop beats boom through the valley as a group of snowboarding enthusiasts practice their spectacular maneuvers-leaping over stumps, flipping off ledges and traversing through the trees.
As China promotes winter sports among the public in the build-up to the 2022 Beijing Winter Olympics, snowboarding is witnessing a spike in participation rates as both amateurs and pros flock to the resorts around Beijing and the surrounding Hebei province to take on the slopes.
He Wei, a professional snowboarder and organizer of the group at Wanlong, describes the sport as "white opium"-a description somewhat in keeping with its edgy image.
"It's so addictive and contagious once you get into it," said He after competing at the Banana Open, a World Snowboard Federation slopestyle event, at Wanlong earlier this month.
"The sense of freedom you feel as you traverse through the mountains and woods helps alleviate urbanites' pressure of working and living in concrete jungles.
"The outfits and gear are really cool, which draws people's attention and attracts newcomers," added He, dubbed "Tiger" by his friends for the bold moves he pulls off on the board.
The oohs and aahs of spectators transfixed by the high-flying tricks at last week's FIS Snowboard Halfpipe World Cup at Genting Ski Resort, a Beijing 2022 venue, were testament to the sport's aesthetic appeal.
"When I first started training in the early 2000s, snowboarding was considered an unorthodox event and almost nobody snowboarded at the resort where I trained," said Zhang Yiwei, a member of China's national halfpipe snowboard team.
"The video highlights of foreign boarders performing tricks in their stylish gear to pop music at the X Games really opened the eyes of my generation back then, and now it has become so popular that almost every resort hosts more boarders than skiers every day."