Bayern can win all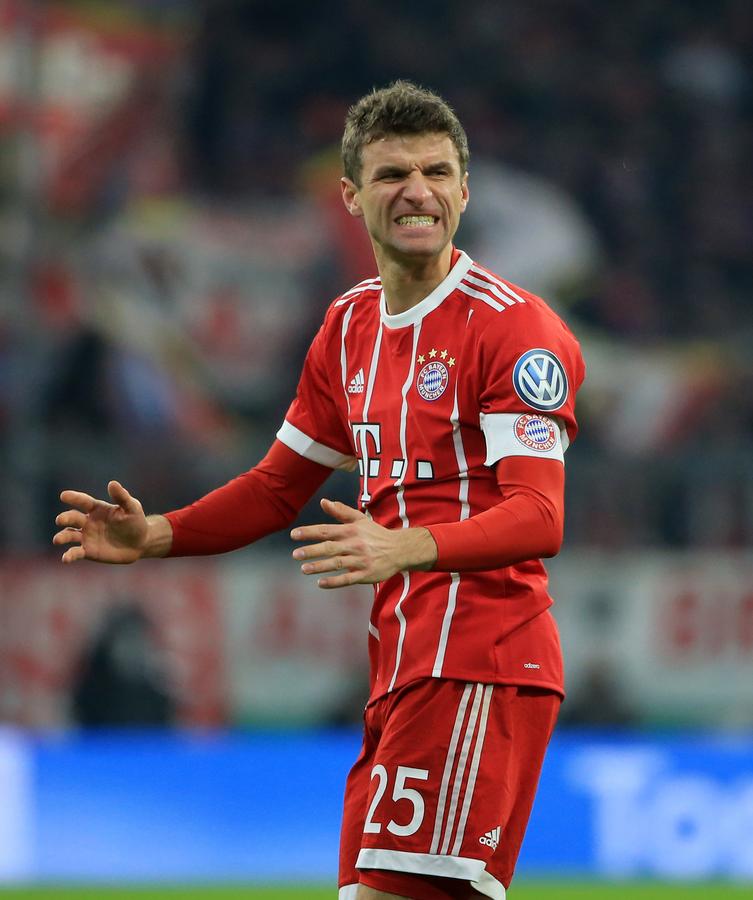 Mueller confident Munich will end season with silverware after sluggish start
Showing up only wearing sports socks and leaving his shoes in the locker room says a lot about the current mood of Thomas Mueller.
The Bayern Munich striker is turning up for an interview right after a training session humming a song - indicative of his current cheeriness.
"Bayern can win all competitions we take part in," he said.
The 28-year-old is expecting a prosperous 2018 for his club and the German national team, he told Xinhua in a recent interview.
Style can be a message.
"I am excited about winning titles," the Bavarian-born striker remarked. "I am crazy about the feeling winning titles gives you."
Mueller is confident the new year will deliver several trophies with the national team and his club.
"2018 is a great challenge for the two teams I am part of," he said.
Mueller admitted the return of Jupp Heynckes as coach in October has boosted Bayern this season, but the Germany international refrained from blaming former boss Carlo Ancelotti for the Bavarian club's lackluster year.
"The team was responsible for the disappointing results, not the coach (Ancelotti)," Mueller said.
Heynckes is working his magic again in his fourth stint in charge of Bayern, and Mueller said: "Jupp Heynckes is far from a magician, but as soon as he returned we started to win."
Heynckes, who won the treble with Bayern in 2013, has an instinctive feeling for the club and every member of the squad.
"We carried on with (squad) rotation under Jupp but got along much better. We have a team on the pitch working together.
"I don't know why, but under Ancelotti it did not work that well. Changing the team, which was necessary due to the amount of games we had, caused additional problems we could not get under control," he added.
Mueller believes Bayern's 3-1 Champions League victory over Paris Saint-Germain in Munich on Dec 5 was a turning point in the German giant's season.
He described the win as a statement of intent but kept the result in perspective, saying at the time: "We haven't crushed Paris to bits and pieces. They had a great chance during the game to score when the result was still far from 3-1."
Bayern advanced to the last 16 as Group B runners-up, but Mueller wasn't reading too much into the win, or PSG's 3-0 triumph in Paris.
"We lost the first game, yes. But our performance in general wasn't that bad. They did not whitewash us as we didn't whitewash them in the second game," he stressed.
Soccer is a results business but Mueller does not accept a "narrow-minded black or white view". He was, though, happy with his team's ruthlessness in the second match. "We scored three goals out of four or five chances," he said.
Mueller doesn't believe the match was an accurate indicator of the ultimate outcome of this season's Champions League tournament.
After the defeat in Paris, Bayern's hierarchy decided to change coaches. The team knew "it had to get things back into place", Mueller said.
"When a new coach is appointed a team has to take responsibility and focus more on teamwork," he added.
Mueller reckons the change the coach has paid off as now the team "is working well as a unit".
Despite Bayern's 11-point Bundesliga lead at the midway point in the season, Mueller said his team is "far from crushing every side in the league".
Bayern is well aware that there is much room for improvement, but it is undoubtedly much more stable after a mediocre start to the season.
"When we talk about a wired first half of the season we have to talk about Borussia Dortmund too," Mueller said. "They gained a lead of five points after seven matches.
"Now we are 11 points ahead. Nobody would have had the guts to predict a turnaround like that back in September."
Bayern is on course for a domestic double after beating Dortmund 2-1 in the German Cup on Dec 20.
In the Champions League, Bayern faces Turkish club Beskitas in the last 16, with the first leg in Munich on Feb 20 and the return fixture on March 14. Mueller admitted the draw was favorable for Bayern.
"We know there are maybe stronger teams in the competition having to face each other in the round of 16."
Mueller said Bayern is comfortable with its favorite tag against Istanbul side Besiktas, "especially in the away game when we need to be fully concentrated".
He even thinks Bayern has the quality to win the competition but cautioned that "many little things decide European games".
Mueller suffered from a sharp dip in form earlier this year but now feels stronger for his travails.
"The last year wasn't always perfect for me, but it was not as bad as many thought," he said.
"I know, and the team knows, we could have done better. Especially last season we could have achieved more than only the national title."