Hadrian's Wall and China's Great Wall build collaboration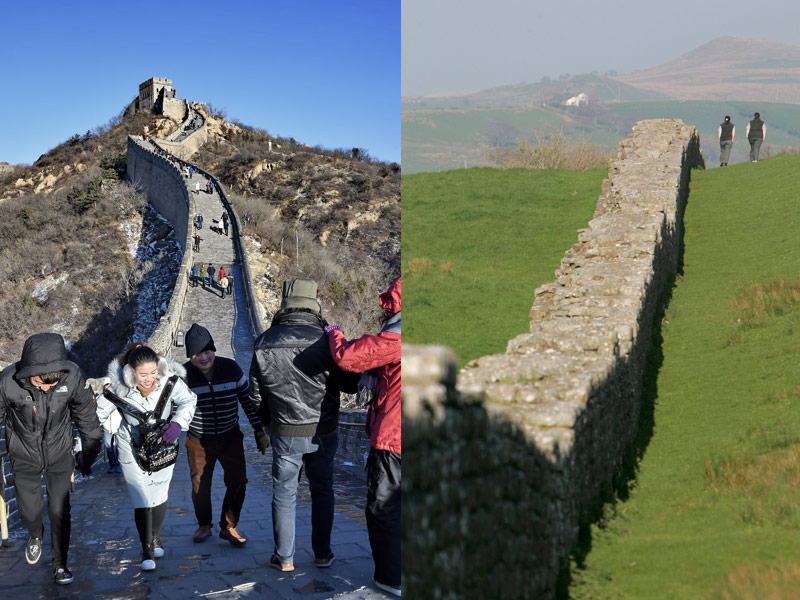 A new partnership involving organizations that look after the Great Wall of China and Britain's Hadrian's Wall aims to boost tourism and increase the historical and cultural understanding of the monuments.
Historic England and the Chinese Academy of Cultural Heritage have signed a Memorandum of Understanding that the United Kingdom government says is the first of its kind and part of a new way to manage the growth of the heritage sector.
John Glen, the UK's under-secretary for arts, heritage and tourism, said the agreement is a "perfect example of how heritage can be used to strengthen international partnership, grow tourism, and build a truly global Britain".
Glen said representatives from the two walls will examine the challenges and opportunities that come with managing large and complex archaeological remains, and explore the potential of tourism growth in both countries.
Both walls were added to the UNESCO World Heritage Site list in 1987.
The collaboration came about after the conservation of the two walls became a key topic during talks in Beijing and Xi'an in February 2017 and was discussed during the UK-China People-to-People Dialogue.
Duncan Wilson, chief executive of Historic England, said he was looking forward "to a fruitful collaboration" with the Chinese Academy of Cultural Heritage.
"The minister has reaffirmed the importance of our heritage to creating great places, to the economy, to communities, and to our wellbeing," he said.
The UK heritage sector contributed 987 million pounds ($1.3 million) to the British economy in 2016 – a rise of 7 percent on the previous year. The sector employs 278,000 people.
Hadrian's Wall was built by the Roman army as a way to control its frontier. It was constructed on the orders of Emperor Hadrian following his visit to Britain in AD 122. The wall crosses Northern England and was designed to keep out the Pictish tribes that lived to the north, in what is now part of Northern England and Scotland.
Hadrian's Wall is 117 kilometers long.
The Great Wall, which is an iconic representation of China, is the longest structure ever built at 21,196 kilometers. It has at least 16 interconnected sections that were built between the third century BC and the Ming Dynasty (1368-1644).
A seminar will be held in the Northeast England city of Newcastle this year as the first step in a wider program of collaboration between the caretakers of the two walls.