Shared strollers appear in public places in Wuhan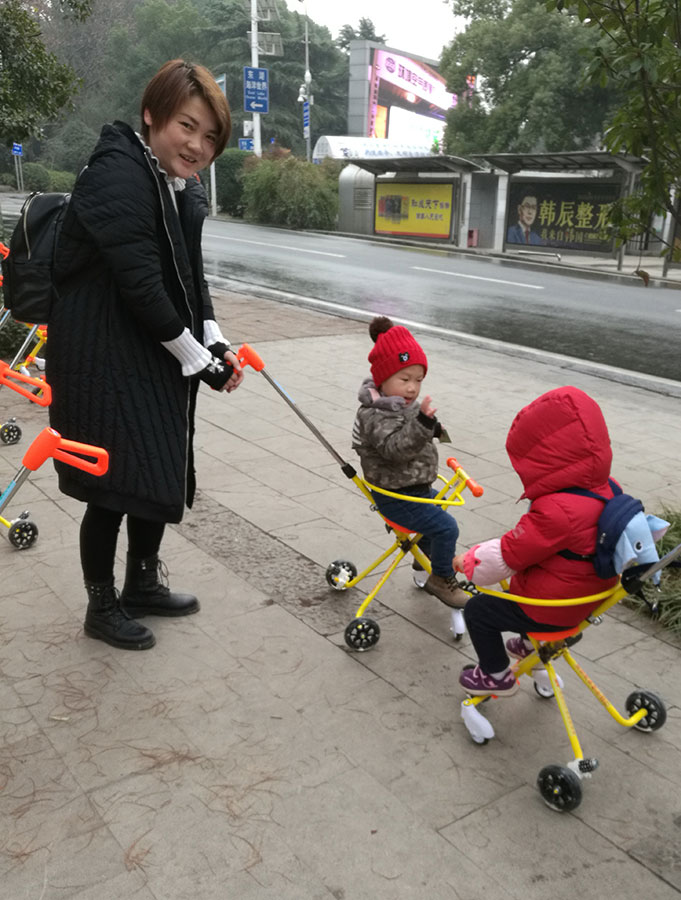 A technology company in Wuhan, Hubei province, has rolled out shared strollers, including at some scenic spots, aiming to make life easier for parents with young children.
About 500 of the yellow Kangaroo strollers were distributed citywide on Sunday, such as at Wuhan Botanical Garden and East Lake Moshan Scenic Area, in time for the three-day New Year's holiday.
Like shared bikes, the strollers can only be unlocked using an app, which requires users to pay a 99 yuan ($15) deposit and input their cell phone and ID card numbers to register. They can then scan a QR code to get the four-digit code to unlock the rear wheel. The app also has a map function that shows users the nearest available stroller.
However, the response so far has been mixed.
"It causes me a lot of trouble to take a stroller everywhere in case my child needs it, so having shared strollers is more convenient," one parent was quoted as saying by Wuhan Evening News.
Yet some have raised concerns over hygiene. A mother surnamed Liu told the paper she would rather carry around a stroller than put her child at risk of catching something.
Li Jiayuan, manager of Zhongju Tech Co, which operates the service, said the company sends personnel to clean the strollers on a daily basis to avoid potential health hazards.
He said the company had applied for a permit from the urban management authorities in Wuhan's Hongshan district before launching the service.
The department declined to comment when contacted by China Daily on Tuesday.
"The strollers will mainly be placed in relatively enclosed public places, such as parks, shopping malls and scenic areas, rather than public roads and streets," Li added.