Self-driving cars just around the corner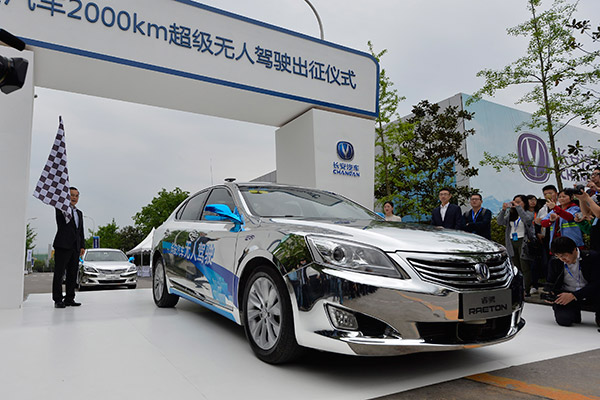 Rules expedited as Chinese companies race against rivals for auto production
Imagine a box with four wheels, cruising down the street without a steering wheel or an accelerator pedal. In Chen Jiadong's unromantic vision, that's what driverless cars will be like.
But the 32-year-old worker, a car-racing fan, believes driverless vehicles will not spoil the fun of driving.
"Driving all the day is so tiring. If cars can drive themselves in line with rules, then traffic accidents may be reduced and efficiency can be improved," he said.
Chen's wish is not far out of reach. Chinese companies are racing against rivals to mass produce autonomous vehicles, as the government is said to be expediting rules and regulations.
Nearly one-third of the more than 30 firms getting permission to conduct self-driving road tests in California, the United States, are from China, according to the California Department of Motor Vehicles.
Many of these companies are startups, including Drive.ai, JingChi Corp, Pony.ai, TuSimple and Nuro. Internet giant Baidu Inc is also one of these players, and Shanghai Automotive Industry Corp is the only traditional vehicle company.
It's widely believed in the auto and technology industry that commercial usage of self-driving vehicles will come to fruition in 2020.
But Chinese firms may be two years ahead of the global target. Baidu plans to launch "small-scale production" of fully autonomous mini-buses this July, according to Robin Li, CEO of the Chinese tech giant.
"The monitoring system developed by Baidu can monitor whether a driver is tired or not. If the driver is tired, the system will issue a warning and perk up the driver with a cheerful song," Li said during a conference.
Startup JingChi Corp plans to deploy the first fleet of 50 self-driving taxis in Anqing, East China's Anhui province by this March.
Customers could order self-driving taxis through a ride-hailing app, and during the test period, the cab will have a "safety officer" in the driver's seat, said Wang Jing, founder and CEO of JingChi.
"As the government gradually shapes policies and regulations of automated vehicles and more passengers get used to the service, we would consider removing the safety officer in the future," Wang said.
Backed by venture capital, more and more companies are jumping on the bandwagon.
Momenta, a Beijing-based firm providing road sensors and high definition mapping software, received $46 million of funding in July 2017. TuSimple, an autonomous truck startup that develops technology for autonomous long-distance freight delivery, raised $55 million in November 2017.
The companies' devotion to the revolutionary technologies was shored up by Chinese consumers' enthusiasm, as well as the government's positive attitude.
More than 60 percent of survey respondents in China believe their families will be riding in autonomous cars in the future, said a recent report by management consulting firm McKinsey & Co.
China aims to install driver-assistant systems or partly autonomous driving systems to more than 50 percent of new vehicles by 2020, and to produce highly and fully autonomous cars for the market by 2025.
That's according to a development plan for the automobile industry jointly issued in April 2017 by the Ministry of Industry and Information Technology, and the National Development and Reform Commission, China's top economic regulator.
Nevertheless, there is still a long way to go before self-driving vehicles enter large-scale commercial operation.
"I'd like to have a try when driverless taxis hit the road, but the premise is that the car is safe," said Yin Nan, 38, who works with a nonprofit organization. "If an accident happens, who will be responsible for that?"
Yin's nagging doubt was not groundless. One of the biggest problems for driverless cars is that hackers may enter the vehicles' operating system, according to Deng Feng, co-founder of Northern Light Venture Capital.
"Technological hurdles may include the accuracy of digital maps and the high cost of producing light detection and ranging devices-laser-sensing 'eyes' used in self-driving car systems," said Zhao Xiang, a senior analyst at Beijing-based internet consultancy Analysys.
Still, it is the permissiveness of regulations, rather than technologies, that will set the pace of the commercial use of this technology, Deng Feng said.
"It's difficult to predict the timeline of driverless vehicles' mass production. Some Chinese companies are getting ready to wheel out their vehicles, but the schedule may be delayed due to regulation issues rather than technology lag," he said on the sidelines of a recent tech summit organized in Beijing by media outlet ifeng.com.
To speed up the development of the self-driving technology, the government has been drafting relevant guidelines and regulations.
In mid-December 2017, the country's first guideline on road tests of autonomous motor vehicles was released by local authorities in Beijing.
The guideline makes it clear that independent entities registered in China can apply to test at most five vehicles at a time, and they must first complete tests in designated closed zones before conducting road tests. The list of road sections eligible for such tests will soon be released, according to the Beijing local authorities.
Later that month, the Ministry of Transport said that it would conduct research to promulgate policies related to autonomous driving technology this year.
When making related laws and regulations, many issues need to be taken into consideration, said Gao Yifei, a professor from Southwest University of Political Science and Law.
"For example, how to ensure the security and reliability of self-driving vehicles? What will happen after autonomous vehicles are driven on the road? What if driverless vehicles cannot recognize gestures of traffic police?"
Kuang Ziping, founding managing partner of the Shanghai-based Qiming Venture Partners, said the industry expects favorable policies will be carried out soon.
"All in all, the government authorities, both at the national and local levels, are supportive of self-driving vehicles," Kuang said.