Site of CPC founding gains crowds after 19th Congress, records show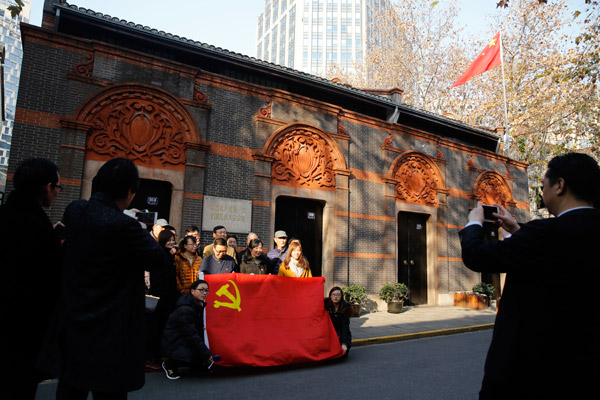 The number of visitors to the site of the Communist Party of China's first national congress in Shanghai set a record last year.
More than 835,000 people visited in 2017, the memorial hall said on Monday in its statistics release.
The Memorial for the Site of the First National Congress of the Communist Party of China, at 76 Xingye Road in Shanghai's Xintiandi area, is a typical Shanghai house with a courtyard and gates encased in stone frames known as shikumen.
It hosted that First National Congress starting on July 23, 1921, when 13 Chinese delegates and two foreign delegates from Communist International convened to draft the first program of CPC and elect the Party's central bureau.
The congress was interrupted on the seventh day due to a search by police in the French concession, and all the delegates moved to a boat to finish the meeting in Jiaxing, Zhejiang province.
The congress marked the birth of the Party, which now is the world's largest political party with more than 89 million members.
The site was made into a memorial hall and open to the public in 1952. It now has an area of 1,000 square meters, displaying the exhibition, The Great Beginning: The Founding History of the CPC.
Curator Zhang Liming told Xinhua News Agency that there was enthusiasm among visitors after the Party held its 19th National Congress in October.
Since late October, 5,000 people on average visited the site daily, and the number surpassed 7,000 on peak days.
General Secretary Xi Jinping, who was re-elected at the congress, and six other members of the Standing Committee of the Political Bureau of the CPC Central Committee visited the memorial on Nov 1.
Party members, the general public and foreigners came to learn the history of the founding of the Party, Zhang said.
"We learned the history in textbooks, but coming to the exact place helped me to feel the history and better understand the meaning of the founding of the CPC," said Wang Zhenwei, who came from Henan province.
Daniel Navarro, a Mexican student of the Chinese language at Peking University, also visited the site on Tuesday.
"The Communist Party has a big influence on this country, so I came to learn about the start of the revolution in China," said Navarro.
Alina Zueva, a Russian student from Nizhny Novgorod, said she enjoyed the painting of the meeting best of all the exhibits as "it helps me imagine how the congress was".