China's speedsters plotting an ice surprise
Short-track skaters hoping to crack Korean dominance in Pyeongchang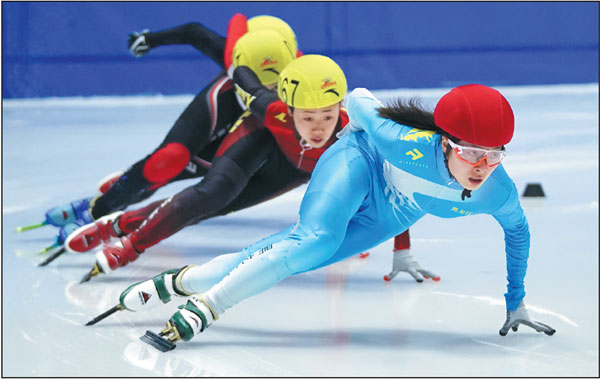 China's short-track speed skaters are raring to wreck South Korea's hopes of Olympic glory on home ice next month. They are, however, under no illusions of what a difficult task that will be against the sport's current world leader.
Chinese preparations for the Pyeongchang Games stepped up a gear on Sunday at the behind-closed-doors Olympic trials in Beijing's Capital Gymnasium, where the intense battle for places exemplified the team's fervent thirst for success as it bids to upset the host.
After selecting a provisional roster, the team will have a final tune-up at a training camp in Shanghai.
"It's never easy preparing for an Olympic Games with so much at stake," said head coach Li Yan after the trials. "No matter how many medals won before, we have to start from zero.
"The challenge (of facing the South Korean team) this time is a Herculean one. What we can do is stay locked in during the final tune-up to become better every day."
China boasts a strong pedigree in the sport. Nine of the country's 12 Winter Olympic gold medals since 2002 were won in speed skating.
However, shorn of retired stars Yang Yang and Wang Meng, China is no longer the dominating force it was once on the ice - particularly in the individual events where a void has yet to be filled since four-time Olympic champion Wang hung up her skates.
South Korea holds world records in four of the eight Olympic disciplines and has reaped 15 golds at four World Cup events this season, making the host the strong favorite in Pyeongchang.
Mindful of playing to its strengths, China is focusing its attention on two team events - the women's 3,000m and men's 5,000m relays.
"We will make a further cut to make the final 10-skater roster for Pyeongchang with our priorities on the relay events," said Li, who helmed the United States to one gold at the 2006 Winter Games in Turin.
Former glories
Led by Wang and Zhou Yang, China's women sped into the history books at the 2010 Vancouver Games, becoming the first nation to sweep golds in all four events - the 500m, 1,000m, 1,500m and the relay.
Zhou, though, has yet to fully recover from an injury that had sidelined her for two years, leaving Fan Kexin, the silver medalist over 1,000m at the 2014 Sochi Olympics, as the women's only individual medal prospect.
Fan's World Cup form this season does not bode well. She failed to register a single win on the circuit, suggesting China is likely to miss out on a women's speed-skating gold for the first time since 2002.
The men's team will be expected to compensate, with four-time world champion Wu Dajing shaping up well for the 500m.
In November, the 24-year-old won over the distance at the Shanghai stop of the World Cup series in a world-leading 40.01 seconds, just 0.073 sec off Amercian JR Celeski's world record. Wu followed that up with another World Cup gold in Seoul.
However, it's in the 5,000m relay, in which China is also likely to select 1,500m Sochi silver medalist Han Tianyu, that Wu desperately wants to upstage the Koreans.
"The team-event gold is our most wanted as it represents the collective strength of our country in this sport," said Wu.
"To win it over the hosts in their house would be really satisfying."
sunxiaochen@chinadaily.com.cn
(China Daily 01/03/2018 page24)
Comments posted above represent readers' views only.
Most Popular
Highlights
What's Hot