More casualties in Iranian protests
Nation will deal with rioters and lawbreakers, Rouhani says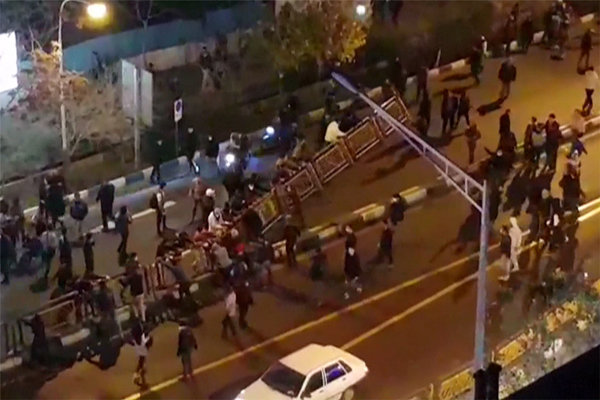 TEHERAN - Clashes overnight between protesters and security forces in Iran killed nine people, state television reported on Tuesday, including some rioters who tried to storm a police station to steal weapons.
The country has seen six days of unrest and a death toll of at least 20.
State TV reported that six rioters were killed during an attack on a police station in the town of Qahdarijan. It reported that clashes were sparked by rioters who tried to steal guns from the police station.
Iran's President Hassan Rouhani has said the Iranian people will deal with a "small and minority group" of rioters and lawbreakers exploiting the protests against economic conditions in a number of Iranian cities in recent days, the Iranian PressTV reported.
Speaking on Monday, he said the nation would counter the small group that has used protests as an excuse to chant slogans in violation of the law and people's demands, insult the sanctities and values of the Islamic Revolution, and damage public property.
"The enemy will not remain silent vis-a-vis the nation's progress and greatness, but there are also deceived people among the protesters who have rightful demands," he added.
Rouhani also stressed the importance of reinforcing national unity, particularly among the three branches of the government, as the best way to tackle such issues and the people's problems.
"I believe that what happened in recent days was apparently a type of threat, which should be turned into an opportunity," he said.
Protests erupted across Iranian major cities on Thursday or Friday over the government's potential move to raise the prices of some basic commodities, including fuel and bread.
In the capital Teheran, holy cities of Mashhad and Qom as well as Isfahan and Qazvin, people took to the streets to protest the mismanagement of the economy by Rouhani's administration.
A senior Iranian security official said Saudi Arabia, the United States and United Kingdom are major players behind recent anti-government protests, Iran's PressTV reported on Tuesday.
Certain countries are waging a "proxy war" against the Islamic republic via social media and the internet, Ali Shamkhani, secretary of Iran's Supreme National Security Council, was quoted as saying.
"What is happening in Iran will be over in a few days, and there is no reason to worry at all," he said.
Rouhani on Sunday criticized US President Donald Trump for sympathizing with the Iranian anti-government protesters.
"This guy (Trump) who is trying today to sympathize with our people, has forgotten that a few months ago he called the Iranian nation terrorist," Rouhani said. Most Iranian officials have blamed foreign intelligence agencies for stirring up the protests.
Inflation and unemployment are the major challenges for Rouhani's economic reforms. According to Iran's Statistical Center, the unemployment rate stood at 12.4 percent during the current fiscal year in Iran.
In August, Rouhani won a second term in office by promising to resolve major economic issues, including unemployment, which he squarely blamed on the decades-long Western sanctions.
On Wednesday, Iranian Supreme leader Ali Khamenei called on the government to earnestly tackle the economic problems of the country.
Russian Foreign Ministry said on Monday that Moscow hoped that the ongoing mass protests in Iran will not develop into severe violence. He also stressed that any external interference with the situation was unacceptable.
"It is Iran's internal affairs. We hope that the situation would not develop under the scenario of violence and bloodshed," Russian media quoted the ministry's spokesperson as saying.
External interference destabilizing the situation is inadmissible, the spokesman said.
Chinese Foreign Ministry spokesman Geng Shuang said on Tuesday that Beijing hopes Iran can maintain stability.
Xinhua - PressTV - China Daily - AP