Chinese restaurant wins hearts in Nairobi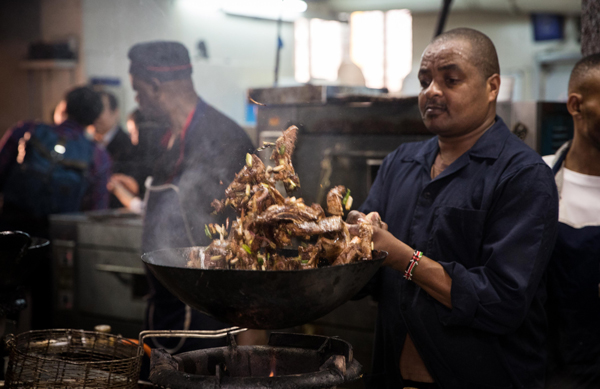 NAIROBI - Tin Tin, a Chinese restaurant located in central Nairobi, has been serving local Kenyans for nearly four decades with its zestful dishes and unique cultural background.
"This is a restaurant definitely worth a try," said Steven, a local resident in his 30s. "It has provided Chinese food since my grandfather's time."
According to Henry Tin, the restaurant owner, Tin Tin was established in 1978 at the heart of the Nairobi Central Business District, upholding Chinese cuisines while incorporating Kenyan preferences.
For years, it has become a defining part of the city's landmark - Kenya International Conference Center - attracting lots of office workers nearby and even presidential patrons.
"The former president of Kenya, (Daniel) Moi, was a very good patron for us. He comes almost once a month and pay always in cash. Then (former president Mwai) Kibaki and now (President) Uhuru (Kenyatta). They all like to enjoy our food," Tin said.
Danis, an office worker of an insurance company near the KICC, says he is a frequenter of the restaurant.
"It is the only Chinese restaurant in the highly competitive downtown area. Besides, its food has been adapted to our taste," Danis said. "My favorite dishes are fried shrimp and fried pork, which you can also find in a Kenyan restaurant."
High-quality food consistently served over the decades has helped maintain a loyal clientele, Enoch Kivunaga said, at Tin Tin.
"My experience depends on the customer. If I cook good food they always come back, no matter they are presidents or ministers," he said.
Facing challenges from other outlets, the restaurant has modified its business strategy by including outside catering into its services.
"We should be able to supply a meal in that 250 to 300 Kenyan shillings ($2.50 to $3) range in mass and work out the logistics to move around to offices," said Jamie Pujara, Tin's nephew and business partner.
Besides affordable food, Tin Tin also aims to enhance its level of professionalism and to have better business management systems, Pujara said.
Tin said he speaks Swahili well and perfectly pronounces indigenous names, a fact that shows the Chinese culture and its Kenyan counterpart are quickly merging. "I am a Kenyan Chinese. I love both great countries."
Xinhua