Safety issues in bike sharing need solution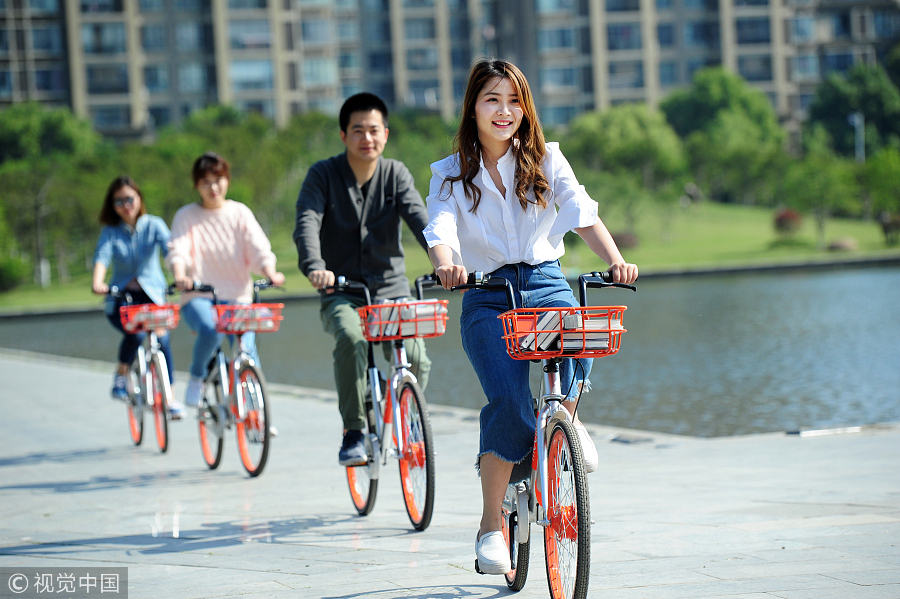 The opinions expressed here are those of the writer and do not represent the views of China Daily and China Daily website.

I think the new trend of bike sharing using mobile apps is a great thing. Bicycling is a very healthy way to get exercise. Not exercising regularly is as dangerous to one's health as smoking. Nevertheless, one factor in the rise of bike sharing concerns me. I often see sports bicyclists in China wearing a helmet, but I don't think I have ever seen a bicyclist on a shared bicycle wearing one.
I offer a proposal for bike share companies that would solve this safety hazard.
My good friend Greg had a long and illustrious engineering career. He rose to engineering vice president at IBM and general manager at Microsoft.
I remember one day this brilliant man could not remember how to drive home. He was in an accident, and his bicycle helmet broke. That's what it's supposed to do. It takes the force of impact so your head, and especially your brain, don't get injured. Even so, Greg had amnesia for a week. He quickly got his stride back and had no long-term ill effects, judging by his continued career success. Without his helmet, I am not sure if he would be alive today.
One of the saddest memories I have from Qingdao is when Ocean University took foreign teachers to visit a hospital for children with brain injuries. These precious children had bright futures until an impact to their head irrecoverably altered their lives, an impact a helmet could have shielded many of them from. Famed brain surgeon Ben Carson is well-known for being mild tempered. When he ran in the Republican presidential primary in the last campaign, he was accused of looking sleepy. However, when he sees a cyclist without a helmet, he is known to become livid with rage, remembering all the cyclists without helmets whose brains he has needed to fix. During his famed career as head of juvenile brain surgery at John Hopkins University, this surgical trailblazer who performed hundreds of brain surgeries a year spent many sleepless nights trying to patch up a brain needlessly damaged because a cyclist did not wear a helmet.
Despite the health benefits of cycling, many in China may die or spend the rest of their lives in vegetative states if they do not wear helmets.
It seems to me the simplest way to make bike sharing safer is to rent the helmets with the bicycle. As an electrical engineer, it is easy for me to envision bicycle helmets rented together with helmets using some type of lock, so that if the helmet is not removed from the bicycle, the rider pays more. If the helmet is not returned to the bicycle, the renter has purchased the helmet.
Maybe this could be legally required. A law such as this would surely save money, since the cost of looking after one brain-damaged patient for the long term can easily top more than a million dollars, a cost which vastly outweighs the cost of a 20-dollar bicycle helmet.
Sometimes the public needs to be protected from its own foolishness for the good of society. Many countries require car passengers to wear seatbelts for just such reasons. In the USA, some areas also have laws requiring bicycle helmets be worn by cyclists.
The author has taught at schools in Qingdao since leaving IBM in 1998.
Today's Top News
Editor's picks
Most Viewed