Car sales hit record in 2017; 25% sold in China
Share - WeChat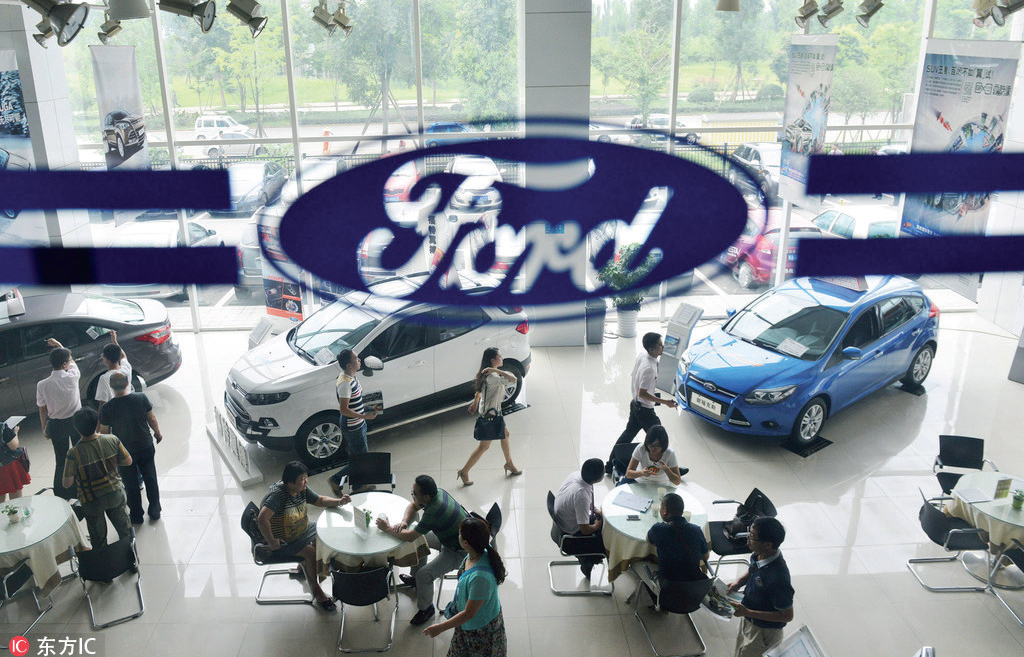 Global sales of passenger cars and trucks are expected to surpass 90 million for the first time in 2017, and more than a quarter of cars sold last year were in China, up from less than 15 percent a decade ago.
A rebound of auto sales in Western Europe and recovery in major emerging markets, including Brazil and Asia, were part of the reason for the record sales, according to preliminary data from WardsAuto.com.
All Big Three US automakers said on Wednesday that 2017 sales declined from 2016, the first time since 2009 and ending a seven-year expansion that began the year after General Motors Co (GM) and Chrysler declared bankruptcy.
GM, the country's largest automaker, said sales dropped 1.3 percent to 3 million. Ford Motor Co reported sales fell 1.1 percent to 2.59 million. And Fiat Chrysler Automobiles NV reported an 8 percent decline to 2.06 million.
"It's not critical for the US market to maintain a China-like growth pace," said Dave Zoia, editorial director at WardsAuto. "What's important is that the industry doesn't end up with the type of excessive overcapacity it had before the 2008 recession. If the US market can stay in the 16.5-17 million range and automakers maintain capacity at current levels, automakers can remain profitable."
He also said that a growing Chinese market helps US automakers, because it is a big market for GM and a growing one for Ford and other multinational brands.
The Detroit News reported on Wednesday that GM's Chief Economist Mustafa Mohatarem expects sales for the US auto industry to be more than 17 million in 2018 for the fourth consecutive year.
"This year, many consumers will see their take-home pay rise because of tax reform," he said in a statement. "That will keep the broad economy growing, and help keep sales at very healthy levels even as the Fed increases interest rates."
The US 2016 sales figure of 17.5 million units was a record for that market, but not a volume figure the US is forecast to be able to sustain, according to Stephanie Brinley, a senior automotive analyst at IHS Markit. On the other hand, she said China is a market with significant opportunity for continued growth. Last year, the Chinese sold 27.5 million units.
"It is still a growing market and not mature," she said. "China is forecast to be able to sustain volumes north of 30 million units, once it reaches that mark about 2020."
Vehicle sales in China may accelerate next year as economic expansion helps lift demand from cities and provinces in the interior parts of the country, Bloomberg reported last month.
Some of the fastest-growing automakers in the world are based in China, including Chery Automobile Co, Guangzhou Automobile Group Co, SAIC Motor Corp, and Zhejiang Geely Holding Group Co.
Demand for electric vehicles is growing. Globally, sales will likely top 2 million in 2018, with China providing about 75 percent, according to nextbigfuture.com. China sales were 84,000 in November.
Last month, China and the US both extended or preserved tax breaks for electric cars, which represent less than 1 percent of global production and sales, according to IHS Markit.
Global car sales by South Korean automakers fell in 2017 partially on low demand in the Chinese market, according to industry data.
aaronhagstrom@chinadailyusa.com