Smooth operator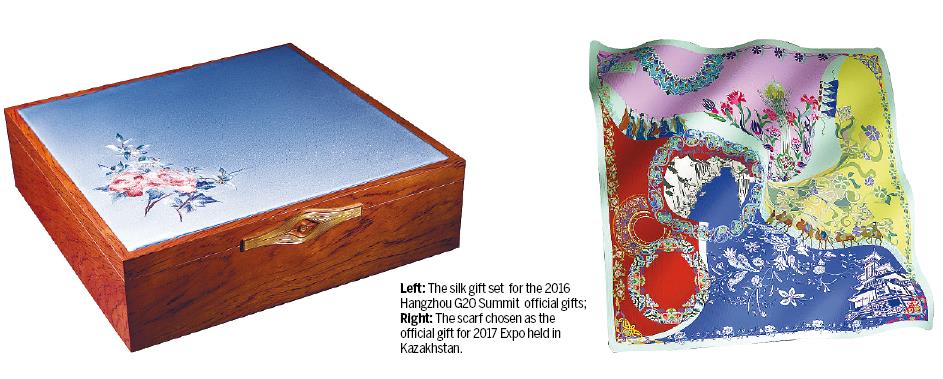 Silk business transformed from humble shop to haute couture brand
Scenes from water cities in southern China and a picture of Bayterek Tower, a landmark of the Silk Road city of Astana, Kazakhstan, are embroidered together on a silk scarf named "Silk Road". The scarf was produced using one of China's oldest traditional techniques. Silk embroidery has a history dating back more than 1,000 years.
Xu Ting, the chief brand officer of Chinese silk fashion brand Xiu Niang — which means "embroidery craftswomen" — is the man who arranged for the scarf to become one of the official gifts at the World Expo held in Astana, Kazakhstan, earlier this year.
It isn't the only silk product which Xu has brought to an international event. At the 2016 G20 Summit, held in Hangzhou, Zhejiang province, one of his silk gift sets was chosen as the official gift presented to G20 leaders' partners.
It contained a scarf, a handbag, a gift bag and a brochure. All the products were handmade using four different ancient silk weaving techniques called ling, luo, chou and duan.
"Silk is not only a product, but also the symbol and carrier of Chinese culture," Xu said.
However, a job in the silk industry was not the first choice of career for the 29-year-old, who has a master's degree in mathematics and statistics from University of Oxford.
In 2010, when Xu was still a student in the United Kingdom, a phone call from home aroused his first interest in silk.
Xu's mother Qi Qiulan called her son from over 9,000 kilometers away in China for advice. Qi, who is the founder of Xiu Niang, started her business in 1988 in a 6-square-meter silk tailor's shop in Suzhou, Jiangsu province.
Qi told Xu that her business has been selected by the Suzhou government as one of the exhibitors at the 2010 Shanghai World Expo. However, she was hesitant about attending.
"We did not have the experience of such large-scale events. We had to spend a lot of money. Every penny we made was from needle-and-stitch embroidery," Qi said. At that time, Xiu Niang was a small local brand in Suzhou that sold silk fabric as well as tailoring silk clothes.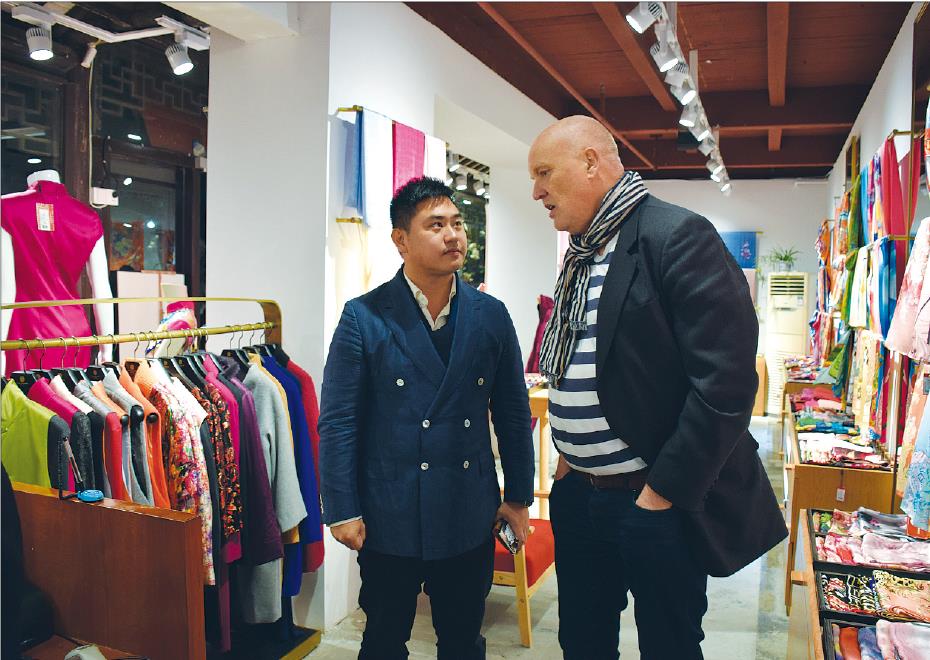 However, Xu told his mother, "Expo is a stage of the world".
He explained to her that the chance to participate in Expo was not only an opportunity to develop her silk business but also a chance to promote Chinese silk culture to the world.
In the summer of 2010, Xu helped his mother take part in the Shanghai Expo and saw for himself how Chinese and foreign visitors alike praised her exquisite products. He said the event opened up his imagination to the potential of silk.
However, like most of his fellow students, Xu took a conventional job, entering a consulting company and becoming an advisor on international trade and business after he graduated from Oxford.
"It may be a coincidence or it maybe my destiny," Xu said of what happened next.
When he was with the consulting company, he participated in a number of merger and acquisition projects for international clothing brands.
The Suzhou government held a conference on rejuvenating the city's silk industry within the framework of the Belt and Road Initiative. Xu attended on behalf of his mother, knowing that silk had once been a pillar of local industry. In the early 20th century the silk weaving factory in Suzhou accounted for half of the world's silk exports.
"Even Princess Diana chose silk fabric from Suzhou for her wedding gown," Xu said.
However, as other industries declined, so did silk. The government was eager to revive it and explore new ways of development.
"With my experience with an international consulting company, I believe that only by building up brands can this industry be rejuvenated," said Xu. "What the Chinese fashion industry lacks is unique brands that represent China."
With this in mind, Xu resigned from his job and joined his mother's business, creating the position of "chief brand officer" for himself.
Xu says the entire French fashion industry is supported by outstanding brands. Even Italy, a country famous for its arts and handicrafts, is also supporting its craft businesses to establish brands. He believes that the key to reviving Suzhou's silk industry is setting up brands and going out to promote them.
At the start of his new venture, he observed that the entire silk industry in Suzhou positioned silk products as basically for tourists and gifts. This led to similarities in products and a lack of innovation.
Increasing costs meant many manufacturing enterprises in Suzhou had been unable to shoulder the great responsibility of rejuvenating the industry and had to lower the quality standard of their products.
As the chief brand officer of his mother's company, Xu took responsibility for brand positioning, expansion and marketing.
"Although I am not directly involved in the design and production of the silk products, from the market-based work I do I can understand what appeals consumers and what is demanded by the market."
Xu believes silk is not something that just belongs to China. He believes it is his mission to promote Chinese silk to the world.
In 2013, Xu collaborated with fashion house Gucci and Li Wei, director of the department of textile and fashion design at Tsinghua University, to organize a display of haute couture silk clothes at the Beijing International Fashion Festival.
In 2014, Xu and his team arranged for the brand Xiu Niang to help design costumes for the Beijing Asia-Pacific Economic Cooperation meeting and three sets of garments and a scarf were chosen.
In 2015, Xiu Niang was chosen as one of the Chinese exhibitors to attend the Milan Expo. Marco Pastori, who was then the designer of the luxury brand Chloe, noticed the brand and joined as the creative director.
Xu spent his childhood in his mother's tiny silk tailor's shop. He remembers her being busy measuring silk fabric and sewing cloth in the small and crowded shop.
All these years later, Xiu Niang has more than 65 shops and several online outlets on major e-commerce platforms in China. The flagship shop is located in one of the busiest streets —East Nanjing Road in Shanghai. The 2,00 -square-meter store is a neighbor of international fashion brands such as Victoria's Secret and Coach.
In one of Xiu Niang's online shops, the top selling product is a DIY kit for silk embroidery. Xu said this shows that people are interested in silk and even want to figure out how to make their own silk products.
"This is a change that I am happy to see," he said.
And because of this, Xu says that in every newly-opened Xiu Niang store there will be craftswomen showing how to create silk embroidery.
"Silk shows the spirit of the Chinese craftsman and I want to promote it to everyone," Xu said.
panmengqi@chinadaily.com.cn