Doctor shortage closes children's clinic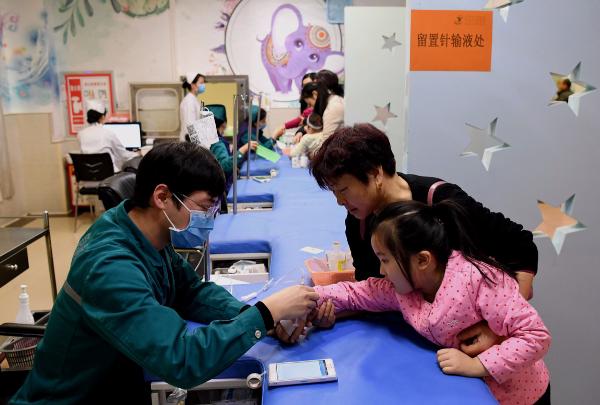 A major hospital in Tianjin confirmed on Tuesday it has been forced to close its pediatrics department due to a shortage of doctors.
News of the move by Tianjin Haihe Hospital broke when a netizen posted images online on Jan 7 of a notice pinned to a door leading to the children's clinic.
On Tuesday, the hospital's publicity office confirmed the closure to City Express, a local newspaper, and explained that the move had been taken because its three pediatricians had all gone on sick leave.
Pediatrics has been overwhelmed with patients since the start of the flu season in November, the office said.
The head of the department took leave last month for an undisclosed reason, leaving two doctors to see about 60 children a day, the hospital said. Last week, the remaining pediatricians became ill, too, with one catching flu and the other developing a high fever.
Hospitals have reported record numbers of flu patients this winter, especially pediatrics departments.
The General Hospital of Tianjin Medical University has been receiving 1,000 to 2,000 sick children every day, while doctors at Beijing Children's Hospital saw 10,000 on its busiest day.
China has 118,000 pediatricians and is in need of 200,000 more, according to data from the National Health and Family Planning Commission. The current ratio is 0.53 doctors to every 1,000 children.
According to the City Express report, the Chinese Medicine Association said the workload for a pediatrics doctor is 1.68 times that of a physician for adult patients, yet their income is substantially lower.