Warlord reimagined in song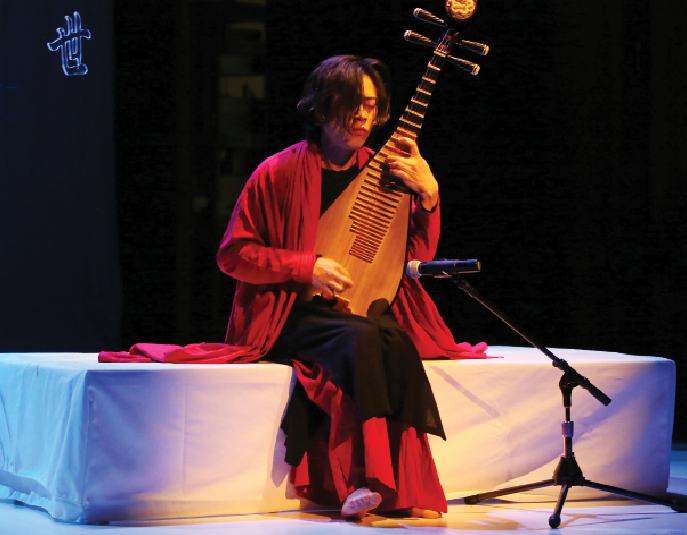 Overlord brings to life the story of an ancient warlord through the sounds of traditional Chinese music.
The musical performance was created by pipa player Yu Bing, who along with his ensemble, which includes some of the most talented young players of Chinese and Western musical instruments in China, tells the story of the infamous Western Chu warior Xiang Yu (232-202 BC).
The show was performed twice at the Asia Society in New York, on Wednesday and Thursday.
Inspired by Ambush on All Sides and The King Doffs His Armor — two traditional masterpieces for the pipa, a four-stringed Chinese instrument — Overlord is based on historical facts surrounding Yu's struggles, which included military victories and defeats and his eventual suicide as Han forces closed in.
Yu Bing uses instrumentality to explore Xiang Yu's character and life history, revealing the inner world of a heroic Chinese figure at different points in his life.
"The idea is we adopt the instruments we played as characters, and we perform them along with a storyline," said Yu, a young pipa player with the Shanghai Chinese Orchestra.
"That means we thoroughly put the music on the stage, taking music as the protagonist," he added.
"I've always wanted to do this 'bold attempt,'" said Yu, who has pursued cross-border cooperation and promoting pipa playing and traditional Chinese culture.
Unlike other film and traditional Chinese opera adaptations, Overlord does not focus on retelling the story of the ruthless rebel leader, but rather seeks to explore and convey a more nuanced iteration of the complex man who led rebel forces into battle against the Qin Dynasty more than 2,000 years ago.
After the Qin Dynasty fell, Xiang Yu proclaimed himself "Hegemon-King of Western Chu" and ruled a vast area covering parts of present-day Shanxi, Henan, Hubei, Hunan and Jiangsu provinces.
Premiering in October, the work was commissioned by the 19th China Shanghai International Arts Festival's Rising Artists' Works (RAW) program, a creative initiative to commission and present new works by bright young artists from across China.
"I thought the performers were really extraordinary. The instruments were really interesting, but without those performers, it would be a different show," said Coral, an audience member Wednesday.
The two performances at Asia Society are part of "Happy Chinese New Year-Shanghai Week", a series of events in New York City this week.
xiaohong@chinadailyusa.com