Governor Pete Ricketts: A good relationship always has room to grow
Share - WeChat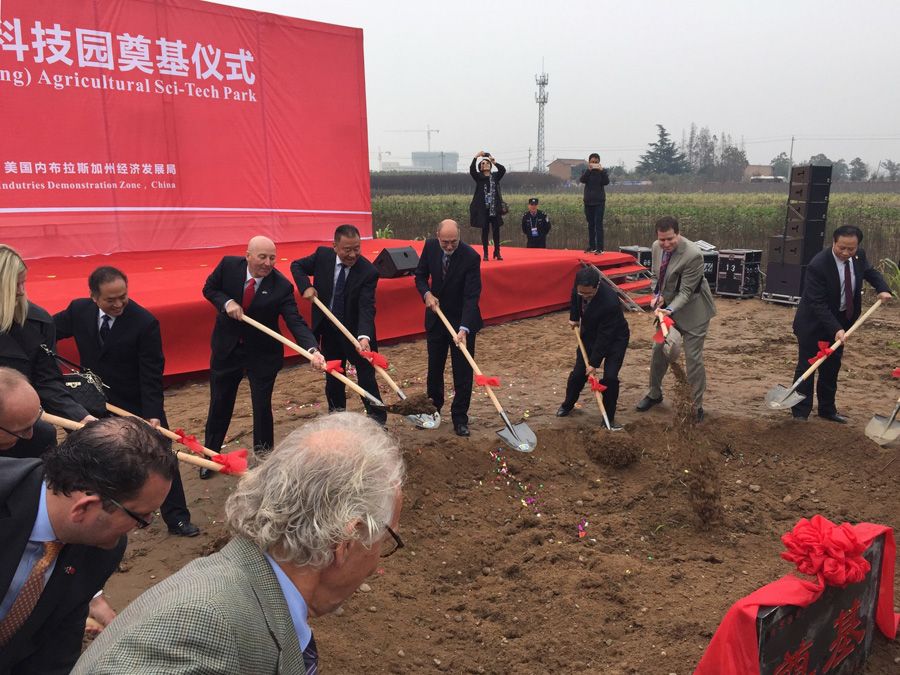 Nebraska, the home state of investment guru Warren Buffett and top exporter of US beef to China, is looking for more Chinese investment and diversified cooperation
In a recent exclusive interview, Nebraska Governor Pete Ricketts offered his optimistic views on economic and trade cooperation between his state and China, as well as enhanced exchanges in agriculture, education and tourism. Last year, 36,000 people attended the Berkshire Hathaway annual event. One out of six of these people were business people from China.
Since taking office in January 2015, you have visited China twice. What did you achieve on those visits?
On my visits to China I worked to expand Nebraska's ties with Chinese business and culture. China is our second-largest export market outside of North America. We always want to improve and expand relationships to our mutual benefit.
Our visits resulted in many good things for Nebraska and China. We established a new sister-state relationship with Shaanxi province, highlighted the creation of a demonstration farm in Yangling, and fostered a new partnership between Tongji University and the University of Nebraska Medical Center. Preferred Popcorn of Nebraska signed a trade contract with Zhong Liang Tian Run Trading Inc with the aid of Nebraska's Department of Economic Development.
During the 2016 trade mission, we visited Jiangsu World Group in Zhenjiang, which operates Worldlawn Power Equipment Inc in Beatrice, Nebraska. Lieutenant Governor Mike Foley also recently participated in a trade mission to China. While on the mission, Foley signed a memorandum of understanding between Hebei province and Nebraska with the goal of bettering our relationship with China.
I hope to have the opportunity to visit China again in the near future. We will continue to actively engage China and look forward to more opportunities for cooperation and mutual growth moving forward.
How would you describe the current economic cooperation, trade and investment between Nebraska and China? What are your projections for two-way investment in the years to come? What role can Chinese investment play in your efforts to improve your state's economy?
The current cooperation between Nebraska and China in terms of trade and investment is very positive. China is one of our top trading partners, last year we exported nearly $1.3 billion worth of goods to China and imported almost $900 million worth of goods.
Even though our relationship is already good, there's always room to grow. China recently reopened its market to American beef. Nebraska produces the world's best beef, so I'm sure that we'll see that market grow in the coming months. Looking to the future, I hope that more investment opportunities arise.
Any investment, domestic or international, is beneficial for both Nebraska and China. China's economy is growing rapidly and with that growth they will want to expand their business prospects.
Nebraska is one of the best places in the world to do business; Forbes Magazine recently ranked Nebraska as the fourth-best state in America for business. Our great workforce, local work ethic, and central location greatly aid companies that do business here.
One Chinese company, Easyway International, made its first investment in Nebraska in 2008 when it established its North American headquarters in Omaha.
Alongside Easyway International, Jiangsu World Group has had a great experience in Nebraska. Jiangsu World Group recently opened a new 270,000-square-foot facility in Beatrice for Worldlawn Power Equipment Inc.
The latest available data shows that Jiangsu has invested $25 million in Nebraska and Easyway International has invested $3 million. Jiangsu's and Easyway's experiences are excellent reasons why companies looking to invest in America should choose Nebraska.