Yu Garden area undergoing makeover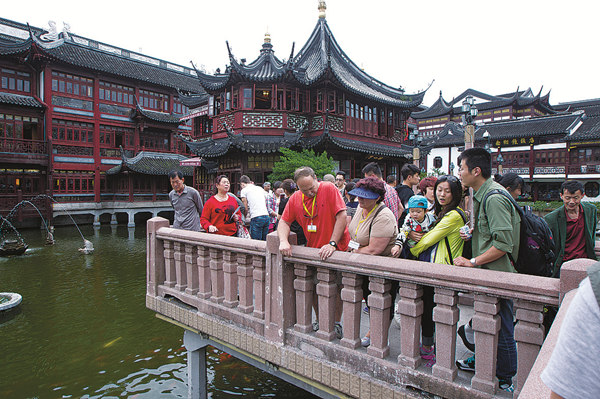 In a bid to promote Shanghai as a fashion and cultural hub, the local government has in December launched a project to renovate the area surrounding Yu Garden, one of the most renowned tourist attractions in Shanghai.
This is the second time Yu Garden has undergone a large-scale renovation since the last project which took place 25 years ago. According to the authorities, this new project focuses on enhancing the area's catering, recreational and cultural services so as to allow tourists to enjoy a better shopping and travel experience.
"Following this new transformation, the Yu Garden area will become a more appealing landmark for culture, shopping and services in Shanghai," said Xu Xiaoliang, the chairman of Shanghai Yuyuan Tourist Mart Company.
Some of the places that will be renovated include time-honored restaurants around Jiuqu Qiao, or the Nine-bend Bridge. The interior decor of most restaurants, such as the Nanxiang Bun Shop, a popular xiaolongbao restaurant in the area, will be also upgraded to offer consumers a cleaner and cozier dining environment.
In addition, guidance services and resting zones will be enhanced to improve the travel experience for tourists.
According to the planners, the higher floors of the buildings around Yu Garden used to be largely occupied by office workers. Following the renovation project, most of these offices would be relocated to make way for cultural businesses. The buildings will also be connected by a series of aerial corridors to facilitate travel between them.
At the completion of the project, Huabao Curio City will become one of the main cultural venues in the Yu Garden area. More national intangible cultural heritage projects will be located on the first floor of the building while the second level will be an exhibition area aimed at promoting the inheritance and revival of traditional crafts.
According to Xu, the second-phase construction will also see the Yu Garden area extended to the west to connect with other popular tourist sites in the city such as Xintiandi and the commercial area on Huaihai Road.
Reputed to be the most beautiful garden in the city, Yu Garden has a history of more than 400 years. Located near the City God Temple, Yuyuan market and host of restaurants and other attractions, the Yu Garden area has always been a vibrant space teeming with local residents and tourists.
According to statistics from local media, more than 130,000 tourists visited the areas around Yu Garden during the Lantern Festival last year. On the first day of the Labor Day Holiday in May, up to 215,000 flocked to the area. During the Golden Week holidays on Oct 2, the area recorded its highest daily record in three years with visitor numbers hitting 224,000.
caochen@chinadaily.com.cn