FM invites Americas to Belt, Road
Share - WeChat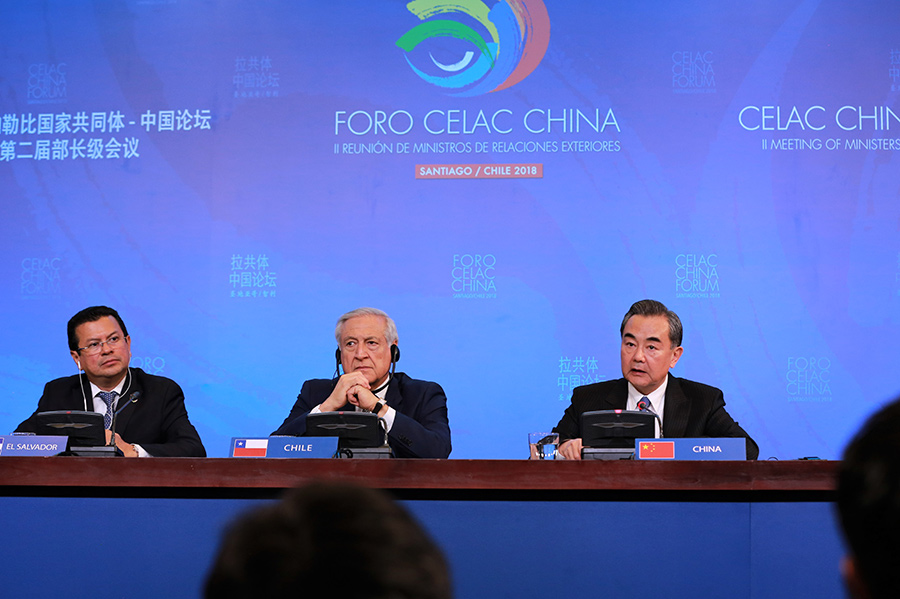 During a ministerial meeting in Chile, Wang says region's nations can benefit
Foreign Minister Wang Yi called for joint efforts with Latin American and Caribbean countries to collaborate on the Belt and Road Initiative on Monday amid China's effort to boost interconnectivity around the world.
Wang sought the cooperation in his address during the opening ceremony of the second ministerial meeting of the China and the Community of Latin American and Caribbean States Forum in Santiago, Chile.
Wang proposed that China and the group build a massive ocean passage to connect continents. China will help build infrastructure in Latin America and the Caribbean and sign more agreements under the Belt and Road framework in the region, he said.
Wang called for cultivating an open, mutually beneficial and big market with a total population of 2 billion people. China encouraged Latin American and Caribbean countries to take part in a November import expo and hopes they will export more to China, he said.
China and the region's countries are committed to building an open world economy to promote economic globalization and have launched new areas of cooperation, such as a joint battle against drugs, corruption and cybercrime, Wang said.
"We will work together to advance the China-CELAC comprehensive cooperative partnership to a new level," Wang said after the meeting.
Both China and the group follow multilateralism, uphold free-trade mechanisms and are committed to building an open world economy to promote economic globalization in an inclusive, balanced and win-win direction, Wang said.
He added that both sides have said they are willing to promote cooperation under the"1+3+6" framework.
In July 2014, President Xi Jinping laid out the "1+3+6"cooperation framework in his keynote speech at a China-Latin American and Caribbean summit in Brasilia, Brazil.
The "1" refers to the China-LAC Countries Cooperation Plan, 2015-19, to guide specific cooperation projects. The"3"identifies trade, investment and finance as driving forces for cooperation. The"6" prioritizes cooperation in energy and resources, infrastructure construction, agriculture, manufacturing, scientific and technological innovation, and information technology.
Ruan Zongze, vice-president of the China Institute of International Studies, said boosting interconnectivity will be a breakthrough for cooperation between China and the region.
Cooperation in production capacity and infrastructure under the Belt and Road can help stimulate the labor market, accelerate economic growth and raise competitiveness in the region, he said.
Chen Yuanting, a senior expert in Latin American studies at the Chinese Academy of Social Sciences, said that Brazil, Argentina and Mexico have planned to expand infrastructure construction and China can provide funding, technology and experience.
Yao Shumei, director of the International Economic and Finance Institute of the National Development and Reform Commission, said that China and Latin America should enhance cooperation in infrastructure, energy and other fields such as production capacity, trade and transformation of industrial structures.
Xinhua and Zang Yarui contributed to this story.