Xie shifting into overdrive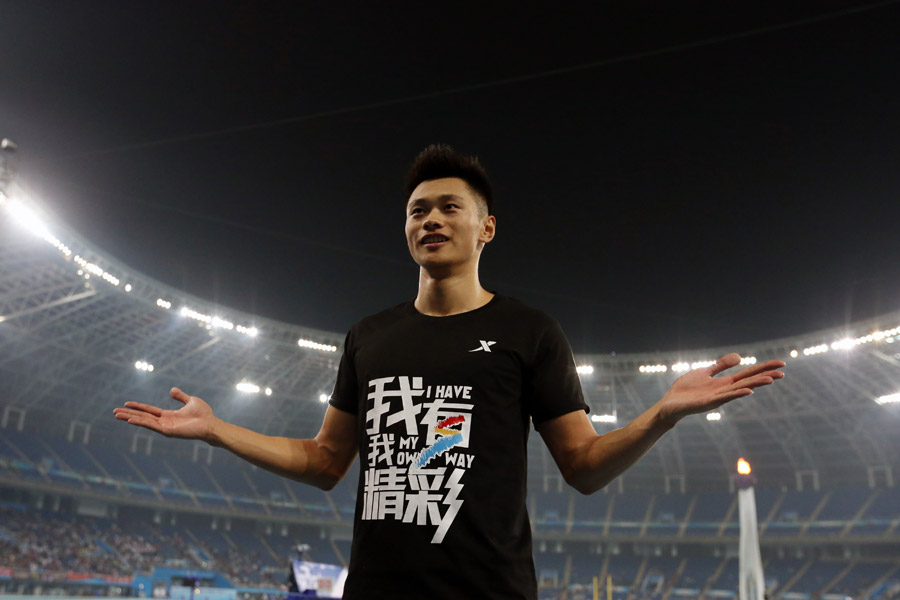 Rising Chinese sprint star sets sights on running sub-10 100m, Shi Futian reports
After a spectacular 2017, Xie Zhenye is ready to dash into the history books.
The 24-year-old from Zhejiang province has set his sights on becoming just the third Asian-born athlete to run the 100 meters in under 10 seconds-and his recent form indicates he'll do it.
At September's National Games, Xie dethroned the only Chinese sprinter to break 10 seconds, Su Bingtian, while his confidence was further boosted last year by two wind-assisted sub-10s and breaking his own national record by clocking 20.20 over 200m.
Xie admits his stellar year has brought extra pressure, but he's raring to take Chinese sprinting to the next level.
"For me, I just want to run a little faster every year and keep improving my performance," he said. "My achievements so far prove that I'm going in the right direction. It's highly possible that I can run under 10 seconds this year."
In Asia, Japan remains China's biggest sprinting rival. Last year, 21-year-old Yoshihide Kiryu became the second Asian-born athlete to dip under 10 seconds with a 9.98 in Fukui, bettering Su's 9.99 from 2015.
The Asian record of 9.91 is owned by Nigeria-born Qatari Femi Ogunode, while Jamaican Usain Bolt's world record stands at 9.58.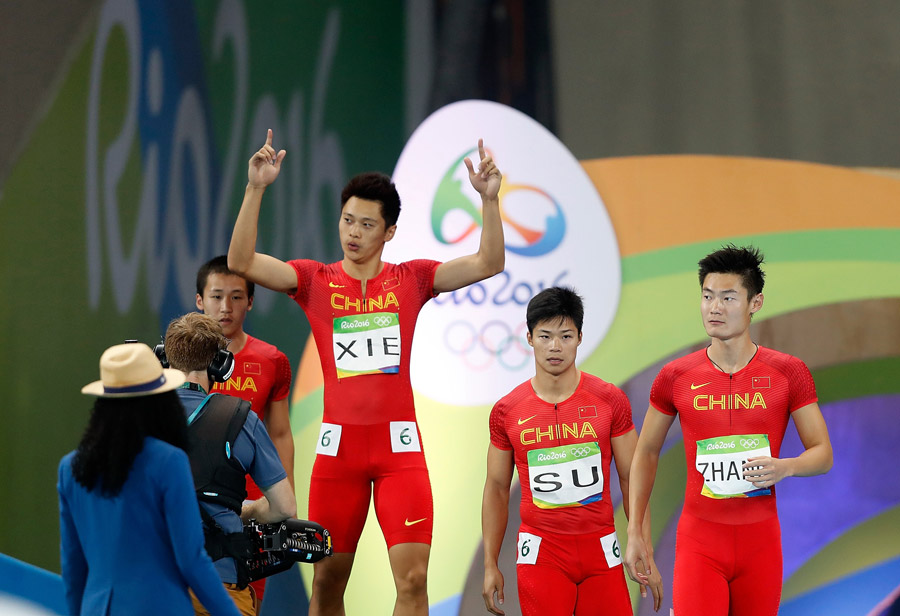 The China-Japan rivalry also looms large in the 4x100 relay. Having won silver at the 2015 world championships in Beijing, the Chinese team, spearheaded by Su and Xie, finished fourth at the 2016 Rio Olympic Games as Japan sped to a surprise silver.
Xie, though, is not sure focusing on beating Japan is particularly healthy for the Chinese team.
"We are competing against athletes from all over the world, not just Japan, so we should see the bigger picture," he said.
"As long as we are competitive enough, we shouldn't be worrying about athletes from other countries."
Xie, Su and the now-retired Zhang Peimeng used to be the "three musketeers" of Chinese sprinting.
Xie's victory over 28-year-old Su and 30-year-old Zhang at last year's nationals showed he was ready to emerge from their shadows.
"The younger sprinters are growing fast, and Chinese track and field always needs future generations of talent-ed athletes," said Zhang.
Xie cites Su and Zhang as role models from early in his career and he remains close to the pair. However, he also feels ready to take the baton and lead China's charge.
"I'm no longer the kid on the team, so I have to set a good example for younger athletes," said Xie. "I hope I can take our team further and inspire future talent."