Xi's inclusive thought offers China solution to the world
Share - WeChat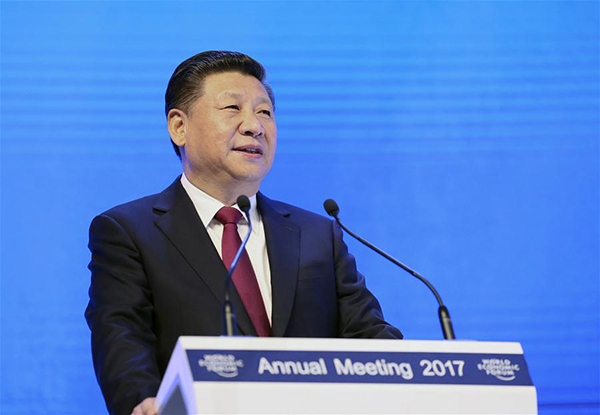 Xi Jinping Thought on Socialism with Chinese Characteristics for a New Era is a combination of Marxism and cosmopolitan ideas for solutions to global problems which President Xi Jinping has articulated after conducting a comprehensive study into China as a leading contributor to and member of the world in the past several decades, particularly since 2013 when he fully took office.
Xi supported an open economy, globalization, free trade, and advocated cultural exchanges to build a community of shared future for humankind in his speech at the World Economic Forum in Davos, Switzerland, in January 2017. His stance was in sharp contrast to protectionism, nationalism and isolationism gaining support in some parts of the world.
Xi Jinping thought is an expansive ideology characterized by pluralism, inclusiveness, equality, and win-win cooperation, and promotes free trade and globalization. It goes beyond any single existing convention. It is not only innovative but also forward-looking, and has the potential to correct and transform the existing world order. Xi Jinping thought has become the ideological basis for governance, policymaking and policy implementation, as well as a major theoretical framework for neo-globalization practices, as illustrated by the China-proposed Belt and Road Initiative.
The globalization espoused by Xi is freedom-based, innovation-driven, equity-oriented, inclusive and responsible, and collaborative in leadership.
Xi and China do not just pay lip service to such ideas. They have put them into result-driven action. Since 2013, China has successfully carried out anti-corruption and anti-poverty programs at home, and initiated taxation for housing to enhance social equity while creating free trade zones, and promoting innovation, entrepreneurship, and green economy. Globally, China launched the Belt and Road Initiative in 2013. Today, 65 economies are part of Belt and Road projects and 84 economies have joined the Asian Infrastructure Investment Bank. While China initiated and has been overseeing the implementation of these projects, all the member countries are equal partners and co-beneficiaries in them.
It is perhaps for these reasons that Xi's speech at Davos and at the UN headquarters in Geneva last year created an instant stir across the world, and has been influencing international relations since then.
The theme of the 2018 World Economic Forum was "Creating a Shared Future in a Fractured World", which in fact echoed the concept Xi put forward at the UN headquarters in Geneva last year. And dozens of global leaders including French President Emmanuel Macron and Indian Prime Minister Narendra Modi shared similar ideas at this year's World Economic Forum. While Modi defended globalization, Macron emphasized the need for equity as a result of globalization and took a dig at US President Donald Trump for his stance on climate change.
German Chancellor Angela Merkel labeled right-wing populism as "poison" in Davos this year and called for cooperation, not divisions, to resolve global issues such issues as immigration. Unexpectedly, British Prime Minister Theresa May, too, criticized populism and supported free trade in her speech at Davos.
The leaders of Brazil and Canada also decried protectionism. These remarks even prompted Trump, who raised the protectionist flag with his "America First" policy, to tone down his populist rhetoric and take a more pragmatic stance in his speech at the World Economic Forum this year.
Xi's bold and insightful stance against anti-globalization offers a China solution to the global governance, which will become more refined through global application.
The author is a research fellow at the National Academy for Development and Strategy, Renmin University of China, and a professor at Chapman University, California.
Most Viewed in 24 Hours
China Views