City rivalries are an engine for development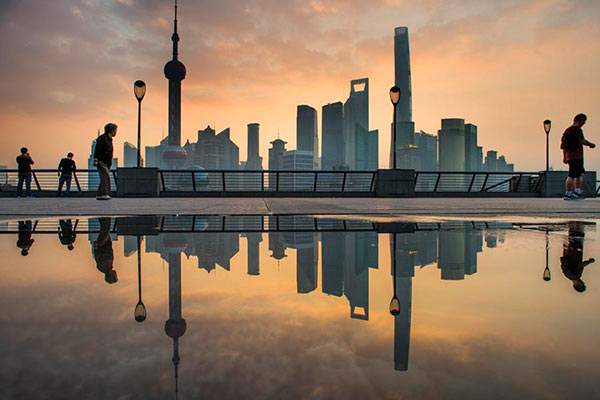 Over the past five years, the country's northeastern region-home to industries such as oil refining and steelmaking-has been facing an accelerating decline, as have the country's rich mineral resource areas such as Hebei province and the Inner Mongolia autonomous region. China's traditional industries are suffering, and as a result, over the last decade, the populations of about one-third of China's 600 cities have declined. Thus the prospects for dispersed populations away from China's megacities have diminished. But all these are actually a result of what is widely considered very good news: China's economic transformation is progressing.
In recent years, China's economy has become increasingly reliant on new technology and modern service industries, including the mobile internet, artificial intelligence, smart cars, drones, robots, virtual reality, wearable devices, green technology, and more. This has led to jobs and growth becoming increasingly concentrated in some high-productivity megacities, making them magnets for skilled labor and venture capital.
The rapid growth of China's high-tech industries was thrown into sharp relief earlier this month at the annual Consumer Electronics Show in Las Vegas, Nevada, where Chinese firms accounted for 40 percent of all exhibitors-a figure that would have been unthinkable just five years ago. Many of those firms are from Shenzhen, China's first special economic zone and now the country's leading technology center.
But Shenzhen is not alone. Several other Chinese cities-for example, Beijing, Shanghai, Guangzhou, Chengdu, and Xi'an-are also working to foster cutting-edge industries. In fact, these cities' competition to generate stronger growth than their counterparts-a contest sustained by the political incentives the central government has long provided to local officials-has played a driving role in China's rapid industrialization and ongoing structural transformation.
Over the short term, it is difficult to assess precisely the role of inter-urban competition in promoting the development of China's high-tech industries, although there are undoubtedly some negative effects. But, over the long term, the outcomes of such horizontal competition are generally positive, owing to the incentives it creates for local government officials to think creatively, experiment effectively, and pursue forward-looking policies.
Indeed, studies carried out by economists, including me, have shown that competition among local governments made a major contribution to the rapid industrialization that China experienced in the 1990s. A key reason for this was that land-which played an important role in early industrialization-is owned and managed largely by local governments in China. So Chinese county governments used land as leverage in order to attract foreign direct investment, particularly in the Pearl River Delta and the Yangtze River Delta in the 1980s and 1990s.
Over the last decade, such competition has persisted, but has increasingly been led by major cities. Rising wages and sharply declining returns to capital in traditional industrial sectors have underscored the need to accelerate modernization-an imperative that has been reflected consistently in the central government's reform strategies. So China's major cities have been fostering innovative and high-tech industries and modern services in the new economy.
One of China's premier megacities has long been Shanghai. But, in recent years, Shenzhen has become a tech hub, and Hangzhou, where Alibaba is based, is a rising star in the digital economy.
Shenzhen's GDP reached some 2.2 trillion ($343 billion) yuan in 2017, higher than that of Hong Kong and Guangzhou, and was surpassed only by Shanghai and Beijing. Now, officials in Shanghai and Guangzhou, the capital of Guangdong province where Shenzhen is located, have added motivation to pursue new growth and productivity-enhancing policies, including upgraded initiatives to attract entrepreneurship and human capital.
China's major cities have created and implemented policy packages aimed at supporting innovative start-ups, as well as a series of measures to attract talent, including individual tax incentives, home-purchase subsidies, and attractive healthcare and education benefits. The leaders of several big cities, including Shanghai, have lately called for a stronger commitment to such policies and for them to be incorporated into broader efforts to improve the local business environment. Such comprehensive strategies have enhanced further the role of China's major cities in advancing structural change, and contributed to major shifts in the sources of economic dynamism of China.
Of course, such competition carries risks-in particular, short-sighted efforts to boost growth in ways that exacerbate misallocation of resources, overcapacity and high financial leverage. But Beijing municipal government, for one, is attempting to mitigate these risks, by shifting its focus from encouraging the highest possible growth rate to ensuring higher-quality growth. In most cases, sustainable growth will arise from major cities' pursuit of high-tech and modern service industries.
China's cities remain vital sources of economic growth for the country. While some will undoubtedly struggle, others will serve as critical engines of China's economic transformation, fueling dynamism across the entire global economy.
The author is dean of the School of Economics at Fudan University and director of the China Center for Economic Studies, a Shanghai-based think tank.
Project Syndicate