Bespoke Bordeaux, by the bottle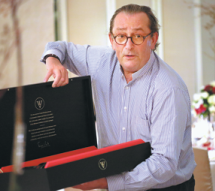 Sporting a light blue-and-white pinstripe shirt and delicate, monogrammed cuff links, Francois Louis Vuitton, the great-great-grandson of the French fashion icon, made an appearance in Beijing recently.
His visit to the capital was not to talk about his family's luxury brand, but instead to promote his new exclusive range of wines chosen from his own personal collection.
Spending his childhood near Paris, Vuitton grew up in the family home which now serves as the bespoke workshops of the iconic luggage manufacturer. Instead of following in the footsteps of the family business, Vuitton instead opted to become an entrepreneur of Parisian elegance.
Having been extremely fond of Bordeaux wines for years, Vuitton's passion for wine - and sharing it with others - has seen him assemble a sizable personal collection over the years.
Vuitton's desire was to establish a wine collection that embodied the French style, and he was careful only to select wines of outstanding pedigree from the finest producers in Bordeaux.
And for his first limited edition portfolio of wines from this personal collection, Vuitton handpicked seven red wines and two white wines from seven wineries - all of which share the Bordeaux Wine Official Classification of 1855 - to create the eponymous FLV range.
"I've visited each property and personally tasted the wines before adding them to my portfolio," says Vuitton. "I'm quite familiar with them and trust each chateau."
He asked the vineyard owners to present the wines in a special box set to display "the ultimate expression of their art and craftsmanship, and offer a delicious invitation to shared pleasures".
In 2015, the first batch of his wine selection went on the market.
Entering the Chinese market in 2016, FLV is represented by Beijing distributor Parkview Wine, which currently operates a limited membership system.
Li Linfeng, chairman of Parkview Wine, says the membership system aims to provide the best service for their customers.
Besides hosting a dinner at Italian restaurant Opera Bombana, Vuitton and Parkview Wine will also host an auction of signed bottles from Vuitton's personal wine collection in Beijing.