Ethical tea-maker brews up a storm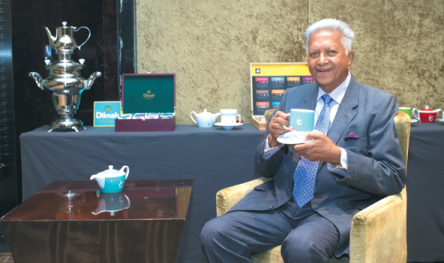 Three decades after Merrill J. Fernando created the global tea brand Dilmah and transformed it into one of the world's biggest independent tea brands to rival global giants like Twinings and Lipton, the 88-year-old Sri Lankan has now set his sights on the China market - the world's largest.
His approach to knocking open the doors of a market that is also the world's largest producer of tea appears rather unconventional at first, but Fernando's aim is to get Chinese people, especially the young coffee cats, to sip tea "back in the Chinese traditional style".
"The tea industry was started in China. Over the centuries it has become one of the most globally celebrated beverages. Unfortunately, during its Westernization - largely by encouraging consumers to add sugar and milk into the tea, it has also become one of the world's most commercialized products. The original concept of tea as a herbal drink from China has become secondary, if not forgotten," Fernando tells China Daily during a recent trip to Shanghai.
He was visiting the city for the China launch of the Dilmah School of Tea, a culinary education and certification program he initiated in 2008, which has since been recognized by the World Association of Chef's Societies. About 120 industry professionals, mainly chefs and hotel food and beverage staff, signed up for the Shanghai initiative.
"I remembered when we started, the world of tea was dominated by British brands. But the School of Tea was started to bring tea to a new generation, in a new way, while at the same time honoring the principals my father put in when founding Dilmah," says Dilhan Fernando, Merrill's youngest son who grew up with the business alongside his father and has now become a second-generation director of the family business.
By partnering with the likes of Institut Paul Bocuse, one of the top culinary schools in France and around the world, the program borrows industry benchmarks from the wine world such as brewing techniques, tastings, and food pairings.
"We want to spread the idea that, without additives or additions, good quality tea can be sophisticated as well," says Fernando junior, who the brand was named after together with his brother, Malik.
Born into a middle class family with many children in Negombo, one of the major cities of Sri Lanka known for its centuries-old fishing industry, Merrill J. Fernando started his trajectory in the tea industry in early 1950s by chance, when a friend of his father invited him to become a trainee tea taster for a British company.
He later rose to become one of the first tea tasters in London of Sri Lankan origin, bucking the accepted norm of the colonial system which still believed that Sri Lankans could not tell the subtle differences between types of tea due to their curry-oriented diet. Fernando also discovered it was common practice within the industry at the time to blend Ceylon tea with types of tea from other origins, by as much as 40 percent, to save on cost.
"I was determined to change the world of tea then," recalls Fernando, who is now literally the face of pure Ceylon tea not only for his own brand, but the Sri Lankan tea industry as well.
In 1988 with the help of two local investors, he created Dilmah as the first company in the world to grow, pick and pack tea at its source. By cutting down on the marketing budgets that multinational companies normally lavished on tea, Fernando found that he could "give back part of the profits to his countrymen tea farmers", "lure consumers to drink his produce with a lower price tag", while "sustaining his business".
To honor his unique business model and philanthropic ideology, he was awarded the Oslo Business for Peace Award in 2015, and the FIRST Award for Responsible Capitalism in London in 2016, among others.
"I never had the money to put the names and faces of celebrities on my tea boxes. Instead I use my children's names for the brand to earn trust from consumers. The question raised is simple - does this movie star make your tea taste better or is it the producer/farmer that really makes the difference?" says Fernando.
Today, his brand is a contracted supplier to all of luxury hospitality group Shangri-La's outlets around the world, Hilton's Asia Pacific outlets and for Emirates' lounges and flights.
Last year, the company consolidated $3 million in sales of its prepackaged tea to China, an increase of 25 percent year-on-year. The country is also Dilmah's fastest growing market, and potentially the largest one for the company, as Fernando junior predicted.
With a portfolio of more than 700 different types of tea, Dilmah now exports 150 tea varieties to China while importing six styles from China, including jasmine-green tea, Oolong and Pu'er.