Soybean reps from Iowa meet with Branstad in China
Share - WeChat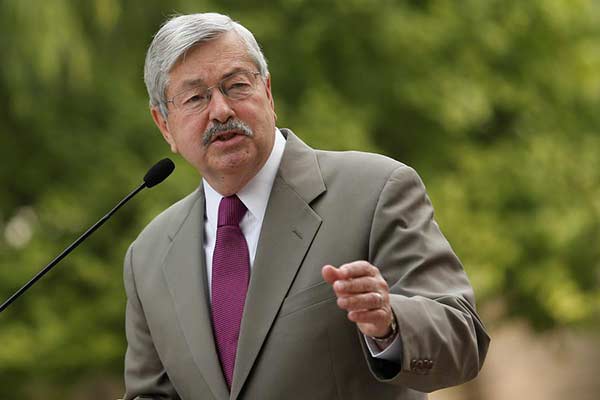 Iowa Soybean Association (ISA) members who met with US Ambassador to China Terry Branstad earlier this week in Beijing said the former Iowa governor showed concern but not "panic"' about US soybean imports facing possible retaliation from China on Trump administration tariffs.
"While the ambassador is obviously concerned about possible retaliation against soybeans, we didn't get any sense of panic," Lindsay Greiner, ISA president-elect, said in a telephone interview from Wuhan with China Daily in New York. "That put me a little bit more at ease knowing he feels there is going to be a dialogue and things will get talked out and resolved to benefit both countries."
The Iowa delegation met with Branstad on Monday. It included ISA President Bill Shipley, Grant Kimberley, ISA director of market development, and Greiner. In 2012, when President Xi Jinping was vice-president, he visited Kimberley's farm with Branstad on his get-to-know-you tour of America as an emerging world leader.
"He (Branstad) and everyone else over here in China understands that a trade war would be very disruptive not only to China and the US - but to the world," said ISA CEO Kirk Leeds.
The US was the No. 2 supplier of soybeans to China in 2017, with Brazil No. 1. US soybean exports to China totaled 1.3 billion bushels in 2017, valued at $12.4 billion. Nearly one of every four rows of soybeans grown in Iowa goes to China, according to the ISA.
Leeds said that Branstad is doing well, despite being under stress from trade issues and issues related to North Korea.
"Having known him for 30 years, he looks good, as energized as ever," Leeds said. "The embassy staff said they've never seen anyone work harder than Branstad, and that sounds kind of what we heard when he was governor as well."
The Iowa delegation discussed the size, availability and quality of the state's soybean crop in a meeting with representatives of China-based processors and feed plants in Beijing, Wuhan, Zhanjiang and Shenzhen.
"They (representatives) have been pretty satisfied with quality," Leeds said. "We asked them their thoughts on the outlook for growth, relating particularly to livestock. There is still a lot of optimism about the growth that we'll continue to see in China, He added: "Lots depends on prices and availability, but certainly they (China) will continue to buy US soybeans. They (reps) remained very optimistic."
On March 16, the state-owned China Communications Construction Co Ltd. (CCCC) began construction of a port in Brazil to export agriculture products including soybeans to China.
"China has been investing in infrastructure in South America for a while," Leeds said. "So, from our perspective, we don't think that's news - just additional competition. Brazil and Argentina still have a long way to go, but these investments are certainly closing the gap on their ability to compete with the US."
aaronhagstrom@chinadailyusa.com