Cupid's arrow curtailing Zhang's career
Share - WeChat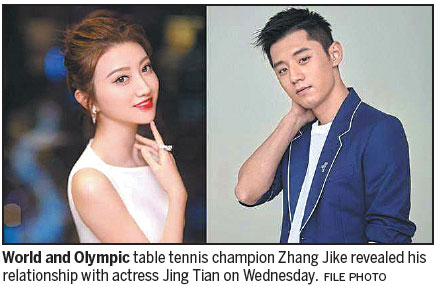 Chinese table tennis megastar Zhang Jike has finally found his true love - but it might mean the end of his career with the national team.
After months of rumors, the 30-year-old world and Olympic champion revealed his relationship with Chinese actress Jing Tian on Wednesday with a short announcement on Weibo: "K loves (in a heart-shape emoji) T" - K meaning Ke, the abbreviation of his last name, and T meaning Tian, while he also posted a picture of himself holding hands with Jing while they walked on a beach.
In traditionally state-run sports like table tennis in China, players are discouraged from pursuing romantic relationships during their pro career.
Since winning the team gold medal at the Rio Olympic Games and the 2017 Asian Championships, injury-plagued Zhang has been a popular subject for the tabloids and TV shows, leading to speculation he might bid farewell to the sport and become an entertainment star.
Zhang has missed every major competition in 2018 and also will not represent China at next month's World Team Table Tennis Championships in Sweden.
The timing of his love announcement is also considered meaningful as Zhang sent out the message at 7:21 am on Wednesday, March 28. The time represents Jing's birthday which is July 21, and the date's numerical representation, "328", sounds like "let's fall in love" in Chinese.
Jing, who is known for her prominent roles in the likes of Pacific Rim: Uprising, The Great Wall and Kong: Skull Island, sent out the same message on Weibo nearly at the same time.
Zhang became only the fourth male player in the history of his sport to earn a career grand slam (Olympics, world championships and World Cup) when he won singles gold at the 2012 London Games. He achieved the feat in record time - 445 days - before narrowly missing out on what would have been a unique second slam cycle when he took silver at the 2016 Rio Olympics.
Zhang's latest international duty, following a five-month absence, was at the German Open in November when he slumped to an opening-round loss to Portugal's world No 40 Tiago Apolonia. The former world No 1 currently sits at No 74 in the rankings.
Zhang and Jing are not China's first pairing of lovebirds from sports and the big screen. Before them, Olympic table tennis gold medalist Kong Linghui and actress Ma Su had an 11-year relationship, and Olympic diving champion Tian Liang married singer/actress Ye Yiqian.