Wang Yi backs DPRK's summit talks
Share - WeChat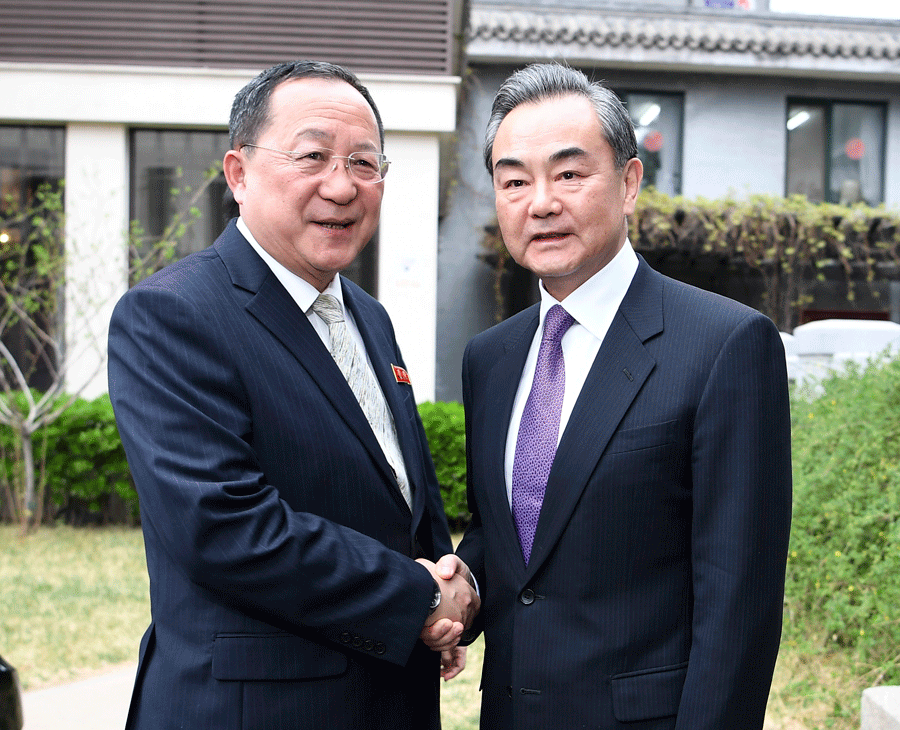 State Councilor and Foreign Minister Wang Yi said on Tuesday that China supports Pyongyang's upcoming summit meetings with Seoul and Washington and that China will continue to work for denuclearization and the establishment of a peace mechanism on the Korean Peninsula.
Wang made the remark while meeting with Ri Yongho, foreign minister of the Democratic People's Republic of Korea on Tuesday in Beijing.
Wang said that during top DPRK leader Kim Jong-un's recent visit to China, Xi Jinping, general secretary of the Communist Party of China Central Committee, reached a consensus with Kim on developing China-DPRK relations and on promoting the peaceful settlement of the Korean Peninsula nuclear issue.
In current situation, maintaining and developing the traditional friendship between China and the DPRK is important for both countries and the region, Wang said.
The diplomatic departments of both countries should strengthen exchanges at all levels and translate into reality the outcomes of the two leaders' meeting as soon as possible, Wang said.
Ri said the meeting of the two top leaders has provided an important opportunity for the development of DPRK-China relations.
The DPRK is willing to work with China to implement the consensus of the top leaders, boost mutual high-level visits and diplomatic communication at all levels, and inherit and develop DPRK-China traditional, friendly relations, Ri said.
Wang said China hails the DPRK's commitment to denuclearization of the peninsula and the important efforts it has made to ease the peninsula situation.
Ri said the DPRK will work as guided by the meeting between the two top leaders and maintain close strategic communications with China.
According to Foreign Ministry spokesman Geng Shuang, Ri was stopping over in Beijing, which comes just a week after Kim's trip to the Chinese capital.
In a joint news conference with visiting Swiss Foreign Minister Ignazio Cassis, Wang called on all sides to maintain focus, eliminate interference and firmly follow the correct path of dialogue and negotiation to solve the nuclear issue on the Korean Peninsula.
Recently, the situation has undergone positive changes and relevant parties have conducted positive interactions, Wang said.
"China hopes all sides can cherish the hard won situation on the peninsula, maintain the momentum of contact and dialogue, and create conditions to smoothly restart dialogue," he said.
But he warned that historical experience has shown that at the moment of easing of the situation and as first light dawns on peace and dialogue, frequently all manner of disruptive factors emerge.
He said he hoped that "disruptive factors" will be overcome and neither side will be distracted.