Trump's actions may not have a happy ending
Share - WeChat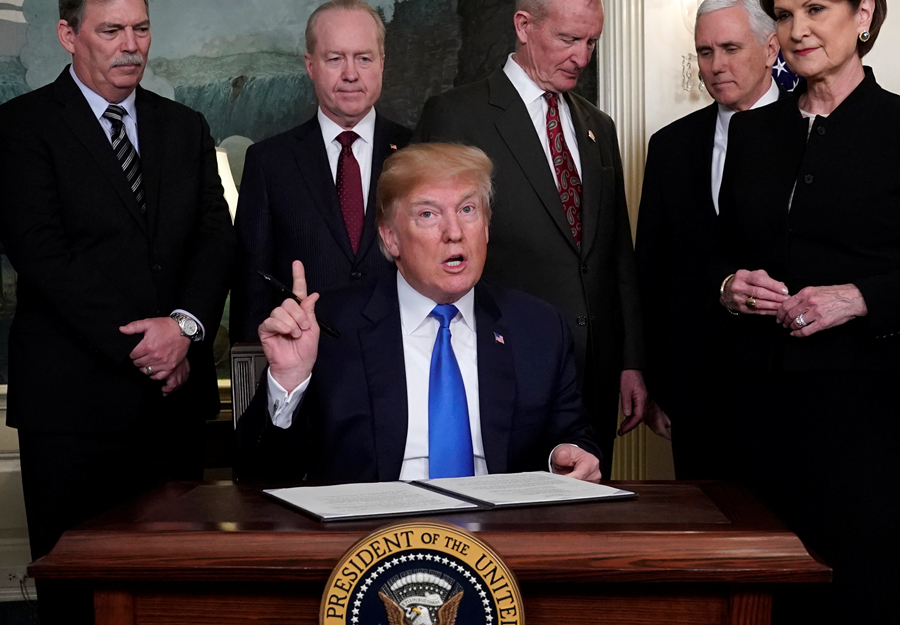 The war of words between the United States and China has escalated rapidly over the last few days. On Thursday, US President Donald Trump upped the ante in the trade battle with China, suggesting further tariffs on $100 billion of imported goods from China, on top of the $50 billion announced on Tuesday.
Cumulatively, the $150 billion of threatened US tariffs represent 30 percent of total imports from China and roughly 5 percent of total US imports. And the $50 billion of threatened Chinese tariffs represent nearly 40 percent of total Chinese imports from the US.
If China responds to these $150 billion of threatened US tariffs in kind, the cumulative loss of GDP in 2018-19 could reach 0.3 percent in each economy with the US potentially loosing more than 300,000 jobs. Importantly though, these threatened tariffs will be subject to negotiation, and therefore shouldn't be considered as final.
Where is the "reset" button when needed?
An escalation of trade tensions represents a growing downside risk to our baseline global forecast as the US administration looks determined to reduce the US trade deficit and curb China's strategic ambitions stated in its "Made in China 2025" plan. With the US international trade data showing a rising trade deficit in February-the widest since 2008-and a cumulative deficit vis-à-vis China on the rise-the deficit was $65.2 billion year-to-date, up almost $11 billion than the same period in 2017-we (at Oxford Economics) fear trade tensions will escalate further in the coming weeks.
In this context, we see two potential routes. The first assumes that similarly to the steel/aluminum tariffs saga, we will witness a gradual de-escalation of tensions once the parties have renegotiated trade terms-so that the final tariffs represent only a small fraction of the initial threats. The second route assumes we are on a slippery slope toward a trade war. Indeed, the recent Cabinet reshuffle in the US indicates a circle of presidential advisers who closely adhere to Trump's world view, raising the risks of an all-out trade war.
How much damage could a trade conflict bring about?
The threatened US tariffs on imports from China could cumulatively represent $150 billion, about 30 percent of total US imports from China. But since these threatened tariffs will be subject to negotiation-a 60-day public comment process which includes public comments until May 11 and a public hearing on May 15-a trade war could hopefully be avoided. But if a trade war does break out, it will have a pronounced effect on bilateral as well as global trade.
The US and China would suffer significant slowdown in real GDP growth-a cumulative loss of about 1.0 percentage point-and the global economy growing at 2.5 percent in 2019 versus 3.0 percent in the baseline.
China may be tempted to again respond in kind. But since it "only" imported a total of $131 billion of goods from the US in 2017, it may limit its direct retaliation options. Nonetheless, China can retaliate via other channels, including sales of US Treasuries, or by disrupting supply chains that are essential to US businesses.
Importantly, China has opened a World Trade Organization challenge to the US' initial $50 billion proposed tariffs, while the eurozone and Japan joined a US challenge against alleged intellectual property theft by China. While we know the WTO arbitration process is a lengthy one-measured in months-it is nonetheless encouraging to see the international body is still being used as a medium of communication between different parties to settle trade disputes. That indeed is a ray of hope.
The author is head of US economics at Oxford Economics.
Most Viewed in 24 Hours
China Views