What's on in Beijing (April 14-21)
Discover the best things to do in Beijing with our weekly roundup of art and exhibitions, music, performances and trending activities around town. To recommend an upcoming event or activity, please contact li-ping@chinadaily.com.cn.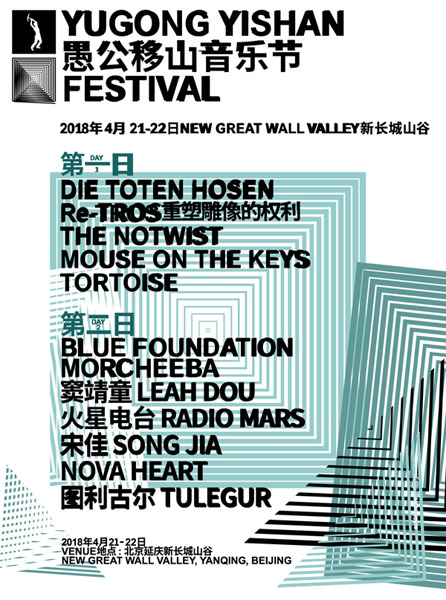 Yugong Yishan music festival
The first Yugong Yishan music festival is ready to rock music lovers in Beijing from April 21 to 22, featuring both world-class musicians and emerging stars.
The festival will open with post-rock musician Tortoise from Chicago, followed by Mouse on the Keys, who will bring their jazz-infused post-rock from Japan, legendary German punk rock band Die Toten Hosen (The Dead Trousers), China's post-punk powerhouse Re-TROS, among many others. It will be Die Toten Hosen's debut show in China in their 36-year musical career.
If you go:
1:30 pm - 9 pm, April 21-22. New Great Wall Valley, Yanqing. 400-188-6980.
Tickets: 560-3,650 yuan ($90-580)