S. Koreans mourn for victims of Sewol sinking
Share - WeChat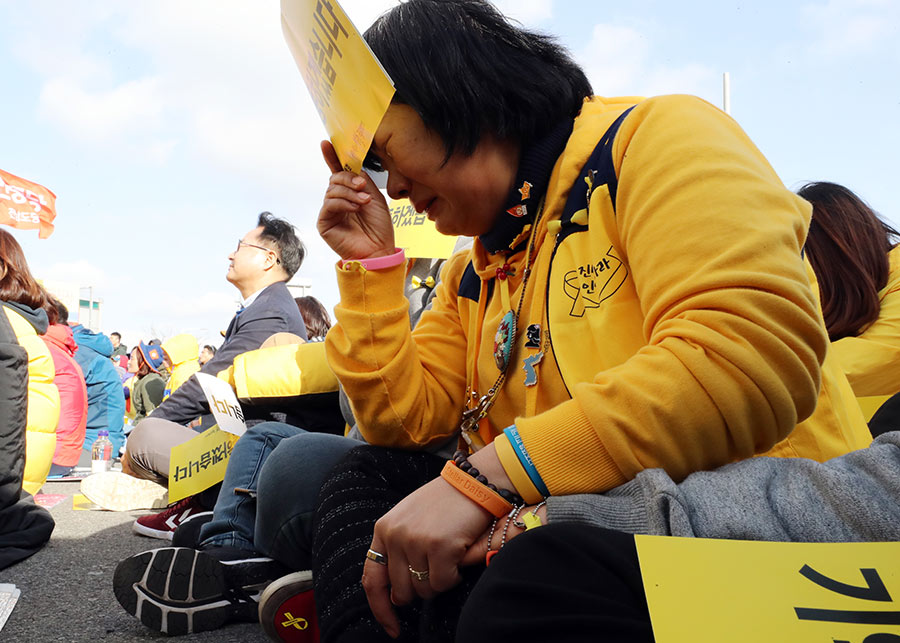 SEOUL-South Korea held a nationwide memorial on Monday for the victims of the Sewol, the ferry that sank in 2014.
The service, led by the government to mark the fourth anniversary of the tragedy, was held at an altar in Ansan, outside of Seoul, local TV footage showed.
About 5,000 people attended the ceremony, including the bereaved families, politicians, Danwon High School students and ordinary citizens.
On April 16, 2014, the Sewol capsized and sank off the southwestern island of Jindo. Grief gripped the entire nation as victims were mostly high school students on a field trip to the southern resort island of Jeju.
Of the 476 passengers on board the ill-fated ship only 172 were rescued, while 299 have been confirmed dead, with five others still unaccounted for.
Before the service, about 1,000 people marched 3.3 kilometers to the altar wearing yellow ribbons, which symbolizes the teenage victims, and holding placards that read "We'll remember and act" and "We'll not sit idle".
Heads of the ruling Democratic Party as well as the minor opposition parties, including the Justice Party, the Bareun Future Party and the Party for Democracy and Peace, participated in the ceremony, but none of the main conservative opposition Liberty Korea Party members was present.
The previous government under the now-jailed former president Park Geun-hye was criticized for a botched initial response to the tragedy, one of the motives for the nationwide candlelit rallies in 2016 that led to the impeachment of Park.
Prime Minister Lee Nakyon said at the memorial service that he cannot quell his anger whenever he thinks of the ferry's captain, one of the first to be rescued though most of passengers remained below decks as they were ordered to stay put through a public address system.
As the vessel tilted over fast, the passengers trapped below decks were drowned by the water that flooded in. The prime minister said he hoped the deceased would rest in peace.
On Sunday, services were held nationwide to mourn the victims. People laid flowers before their portraits in memorial altars across the country, demanding the government gets to the bottom of the tragedy.
Some people also visited the salvaged hull, which was raised in March last year to the surface and moved to a port in Mokpo, about 410 km south of Seoul. The port fence was filled with yellow ribbons people tied to appease the victims' souls.
President Moon Jae-in issued a message on Sunday, saying he promises to get to the bottom of why the incident happened. He said he will fully support the investigation by a special team into the salvaged hull and why it sank.
Moon said his government will make its best efforts not to leave any regret for the bereaved families and all people, adding that he will keep up his pledge to make South Korea a safe country and remember the Sewol ferry tragedy.
CHINA DAILY