Fu finds a reason to restore her winning smile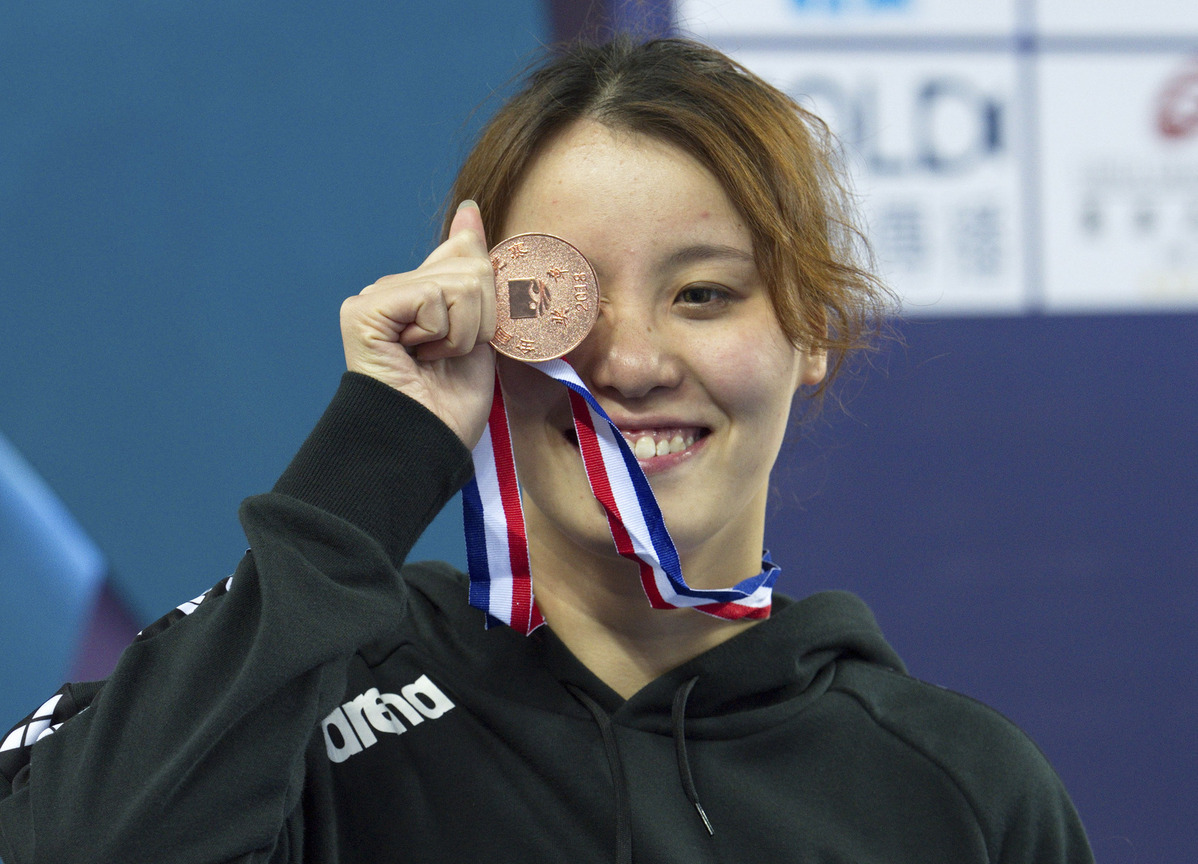 With injury casting a shadow over her career, Fu Yuanhui was not her usual chirpy self at the start of the national championships in Taiyuan.
The 22-year-old has become a celebrity in China after her emotional post-race interviews at the Rio Olympics stole the nation's heart, with her colorful personality, witty social-media posts and reality show appearances building her a huge following outside the sport.
However, the beaming smiles from Brazil were replaced by a heavyhearted demeanor on Friday at the ongoing nationals thanks to a nagging left shoulder injury.
The 2015 50m backstroke world champion said on the weekend that the problem, which she first felt at the 2013 worlds, had pushed her to the brink of retirement.
"I would probably retire after the event if I can't make the Asian Games. I am serious," Fu said after failing to qualify from the 200m backstroke heats on the opening day of the nationals, a trial for August's Asiad in Indonesia.
Missing out on the final of the 200, a warm-up for her strength events (50m and 100m), was no disaster, however the look of frustration on Fu's face told a different story.
"So much has happened, not just the injury, and I feel like I can't swim at my best ability or even train hard any more. I am so disappointed," said Fu, who won bronze in the 100m backstroke at the 2016 Rio Games.
According to a report on 163.com, Fu's Zhejiang team dispensed with her long-term physiotherapist about a month ago during a training stint in Australia in a bid to readjust her recovery program.
Fu refused to elaborate on the details, but said she now has to pay for her own rehab, which is proving a strain.
"Simply, I just don't have enough money to hire a new physio and a fitness trainer for the long term," she said.
"I don't want to give up yet, but the fact that I am not in control of this has made it more frustrating than the injury itself."
The Zhejiang provincial swimming administrative center, however, said it will offer Fu quality support in her recovery, the Hangzhou-based Youth Times reported, quoting an official, Wang Wei.
"I don't think she means it when she says she is going to retire," said Wang. "The new National Games cycle has just begun and we are still in the middle of resetting the management and support systems."
Even with the shoulder pain affecting her stroke power, Fu won the 50m backstroke in Taiyuan on Sunday in a world-leading 27.16 seconds this year, qualifying her for the Asiad in an event she won four years ago in South Korea.
The winning mark was just 0.01 sec shy of her silver-winning time at last year's worlds in Budapest and 0.1 sec slower than the world record held by her retired compatriot, Zhao Jing.
"I didn't expect I could swim this fast at all because I still felt the pain in my shoulder all the way through the race," a cheerier-looking Fu said on Sunday.
"To manage to deliver on my worst condition serves as really encouraging. It took a lot of weight off my mind now that I am on the Asian Games roster.
"I still don't know what happens next (regarding retirement), but I am now determined to work on my recovery first with full effort.
"I don't mind the grueling work as long as I see the light to get back to my full strength and to continue to win glory for my country."