Aston Martin hones in on Chinese market with new SUV
Share - WeChat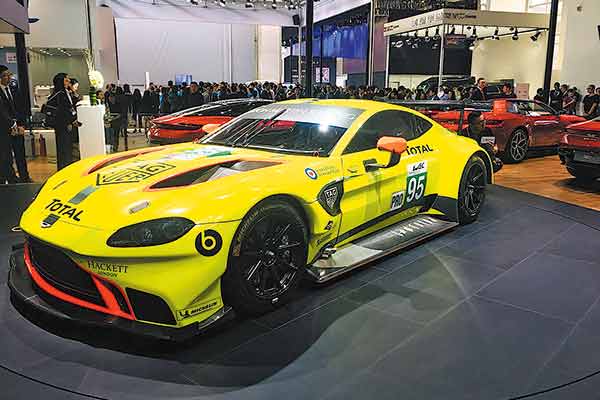 British sports car maker Aston Martin is designing an SUV for and investing heavily in China, expecting the country to become its largest market in five years, according to its president.
"The reason the DBX is in the plan is because of China," said Andy Palmer in an exclusive interview with China Daily on Wednesday.
The SUV segment is the fastest-growing in China, the world's largest market. Statistics from the China Association of Automobile Manufacturers show that SUV sales grew 11.3 percent year-on-year to 2.66 million vehicles in the first quarter of this year.
"If you want to re-imagine the GT, the sports car, in China, the only way that works is that it is in the form of an SUV. If we had no market in China, I am not sure whether we would do the DBX," said Palmer.
The DBX, which will hit the market in 2019, will most likely see China and the United States become its major markets.
Palmer expects China to surpass the US as its largest market by 2023, when its 2016 plan to produce seven models in seven years is completed.
"I am very bullish on China-trying to spend a lot of time here," said Palmer.
The automaker, which entered the Chinese market in 2011, is seeing its market grow quickly. Last year, the brand reminiscent of James Bond saw its highest growth in China-89 percent year-on-year.
Palmer said he does not expect a similar growth rate this year because of the company's limited production capacity, but said it would see a rise of around 30 percent in the country.
"But the number of customers is growing faster than the volume," he said, adding that boosting familiarity with the brand still ranks as its most important task in China.
"We need to translate the beauty of Aston Martin and tell everyone why it is so special," said Palmer.
As part of efforts to build its presence, the carmaker is adding 10 new dealerships to its sales network in the country this year.
That is part of a 620 million pound ($856 million), five-year trade and investment drive in the country, which was announced during British Prime Minister Teresa May's visit to China earlier this year.
Palmer said the carmaker is also planning to build a design studio in Shanghai, which will be its first ever design studio outside the United Kingdom.
Earlier this year, Aston Martin inked a partnership with Sinomach Automobiles, which will see the two companies collaborate in the areas of electric cars and technical development.