Hotpot chain Haidilao issues prospectus for Hong Kong IPO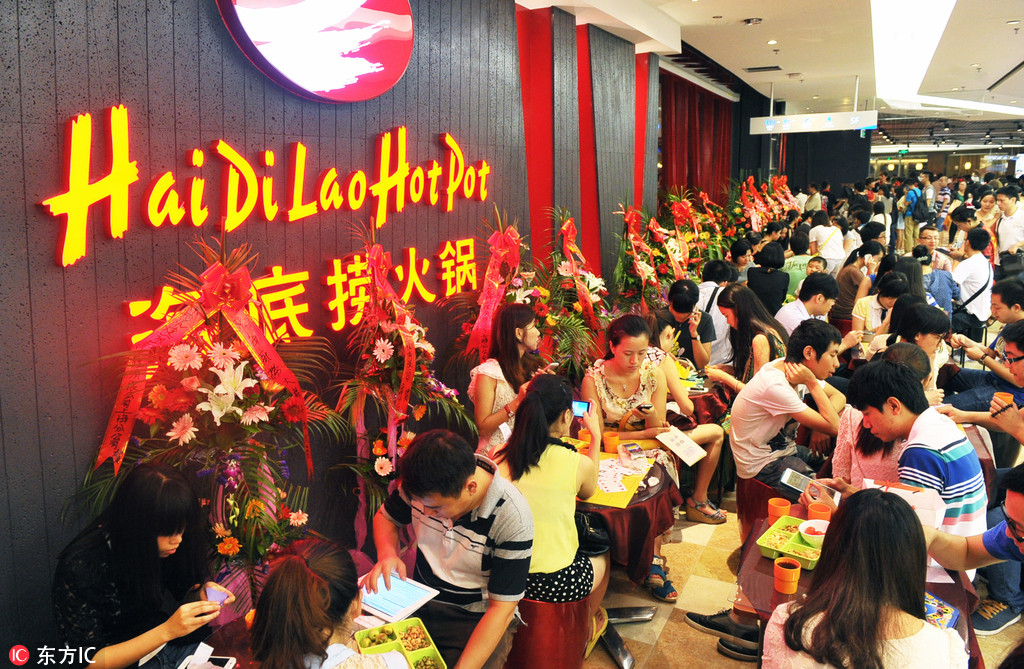 China's top hotpot chain Haidilao International Holding Ltd filed its prospectus for an initial public offering on the Hong Kong Stock Exchange on Thursday, hiring China Merchants Bank International and Goldman Sachs as its joint sponsors, according to a report by Shanghai Securities News.
The size of the IPO is yet to be officially disclosed.
The hotpot giant said 60 percent of the proceeds to be raised will be used to finance its business expansion, 20 percent will be used to develop new technologies, 15 percent to pay loans and the rest for working capital and general corporate purposes, according to the report.
The prospectus shows Haidilao's annual revenue reached 10.64 billion yuan ($1.67 billion) last year, with the compound annual rate of growth over last three years reaching 35.9 percent.
Its net profit, growing at a compound annual rate of 70.5 percent over the last three years, climbed to 1.19 billion yuan last year, the prospectus said.
Founded in 1994 in Jianyang city, Sichuan province,, the hotpot chain, which is famous for its fancy service, runs 320 stores across the world, of which 296 are located in China and 24 abroad, according to the latest data, the report said. In addition, it plans to open 180 to 220 new stores this year.
From 2015 to 2017, more than 97 percent of Haidilao's revenue came from its restaurants. Last year, restaurants, takeout business and the sales of food and spices contributed to 97.6 percent, 2.1 percent and 0.3 percent of its revenue respectively.
Haidilao's same-store sales maintained a growth rate of 14 percent from 2015 to 2017, with the overall table turnover rate rising steadily to five times last year.
The company said it only takes three months for its new restaurants to break even, according to the report.