Tariffs on imported automobiles will fall to 15% on July 1
Share - WeChat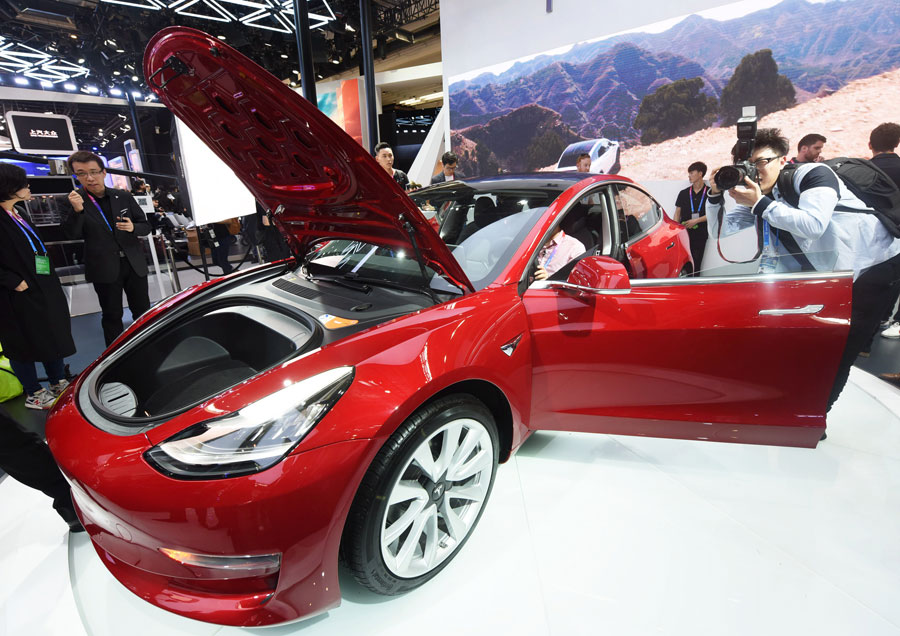 China will slash import tariffs for automobiles and vehicle components starting July 1 as part of its efforts to further open up the world's largest car market, the Ministry of Finance said on Tuesday.
Automobile tariffs — currently 20 percent to 25 percent — will fall to 15 percent, and those for components — which range from 8 percent to 25 percent — will fall to 6 percent, the ministry said on its website.
Industry analysts said the move will make imported vehicles less expensive, thus benefiting the vast number of consumers in China and encouraging competition in the industry.
Li Yanwei, an analyst at the China Automobile Dealers Association, said international carmakers, especially premium ones, will benefit from the tariff cuts to boost their sales in China.
"The policy change will serve as the best promotional event for the industry. It will attract more customers to showrooms and further fuel sales in China's premium car market," Li said.
Representatives of Porsche, Audi and Ford, which owns Lincoln, told China Daily they welcomed the changes.
"We believe it shows the world a further open market of China," Porsche China said in a statement.
Porsche, for which China is its largest market, said it already is working on a price adjustment based on the changes. Audi China said it also will evaluate the impact on the market and act accordingly.
Yale Zhang, managing director of consultancy firm Automotive Foresight, said the tariff cut will not only give premium-car buyers better prices, but will also benefit the larger consumer group of volume brands like Ford and Volkswagen.
As premium carmakers cut their prices, volume brands may follow suit to keep their competitive edge in the market, thus benefiting even more people, Zhang said.
He said such price cuts may prompt competition between international volume brands and Chinese carmakers, whose products have been cheaper, but that is "definitely a positive thing" for the Chinese automotive industry in the long run.
"You cannot protect the weak forever," Zhang said. He said competition will stimulate Chinese companies to work harder and it is not a bad thing to retire some incompetent brands.
In an earlier interview with China Daily, Aston Martin President and Chief Executive Andy Palmer said China has built a strong automotive industry. "Tariffs are normally there to protect the industry, but the Chinese industry does not need protecting anymore. It is strong."
Zhang shrugged off worries that some international carmakers currently producing cars in China may scale down their investment in the country, saying that importing cars will now allow them to respond to the fast-changing Chinese market quicker.
Last year, China imported 1.22 million vehicles, some 4.2 percent of total sales. Most of the imports were from the United States, Germany, Japan and the United Kingdom.
Li Fusheng contributed to this story.
Contact the writer at chenjia@chinadaily.com.cn