Maine making mark in exports to China
Share - WeChat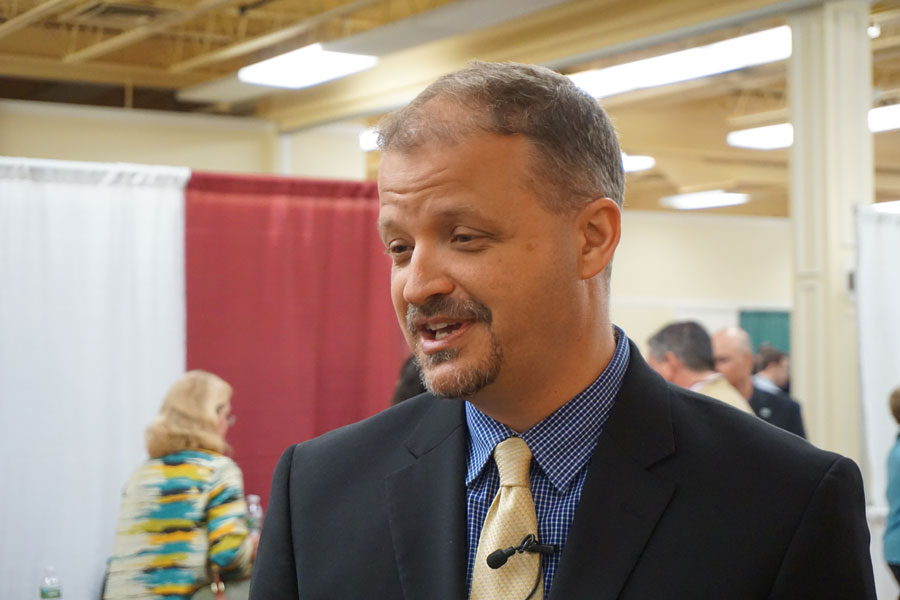 The potential for Maine companies to do export to China is vast "and this will obviously continue to be a very major focus area for us", said Wade Merritt, president of the Maine International Trade Center (MITC).
"Today is just a start of that, and we are looking forward to continuing the partnership and the work that we've been doing together," he said in an interview with China Daily at Maine International Trade Day on May 18 in Rockport.
As Northern New England's largest international business event, this year's event was themed "Global Trade's New Era: Accessing Asia", because "Asia is a growing market for Maine businesses, especially in the seafood sector, but others are also looking east," he explained.
In 2017, 2,262 Maine companies exported $2.7 billion in goods and services to 176 countries.
Exports to Asia totaled $769 million, accounting for 29 percent of the total, and China, Japan, and South Korea were the top three Asian destinations for Maine's exports.
"Obviously, China is a very important market for Maine; it's actually the third-largest export destination for Maine products, right after Canada and Germany," Merritt said. "So, it's a very important place for Maine companies to do business and learn how to do business."
Merritt introduced Invest in Maine, a partnership between the trade center and the Department of Economic and Community Development (DECD) formed to attract business investment and encourage job creation.
"Invest in Maine welcomed more than 15 delegations representing businesses, government officials, and academia from Europe and Asia during 2017. Among them, three Chinese delegations from Fuzhou, Shanghai, and Anhui visited Maine. In addition, a steady increase in interest from New York's large Chinese community on investment opportunities in the state was noted," the annual report stated.
Merritt has visited China about 10 times. "My first trip to China was actually in 2004. I visited Beijing and Chengdu. It's always been a fascinating place to go," he said.
"And we've been back a few times with Governor Paul LePage for trade missions in 2012 and 2015," he said, adding that the biggest result of the visits was getting access in China for Maine lobster and generating investment for the paper industry.
In 2016, International Grand Investment Corp, a US-based Chinese investment firm, invested $120 million in two new tissue-making machines for St. Croix Tissue in Baileyville, Maine. The investment helped keep the tissue factory open and resulted in more than 80 new jobs and hundreds more generated indirectly in the area.
"I think both sides are benefiting (from the bilateral trade)," he said.
"Our companies are certainly stronger for it, and I would like to think that Chinese consumers and businesses are benefiting from their work with us as well," he added.
Merritt emphasized that foreign direct investment has been a vital piece of Maine's economy, citing data from MITC's annual report. It shows that foreign trade supports 180,500 (nearly 1 in 4) Maine jobs.
Since 2009, Maine jobs related to trade increased by 25.9 percent, while overall job growth was just 0.3 percent in the same time frame.
Currently, about 32,400 Mainers work for companies with foreign ownership. "We are relatively high in the number of Maine people who work for international companies." Merritt said.
The field for international investment has expanded from namely the lobster industry to financial services, manufacturing, life sciences and other areas.
MITC helps Maine businesses enter and expand global markets for their products and services and also works to increase international student enrollment and foreign investment.
A public-private partnership, MITC is funded through DECD, corporate contributions and membership dues from nearly 300 businesses and organizations.
Contact the writer at xiaohong@chinadailyusa.com